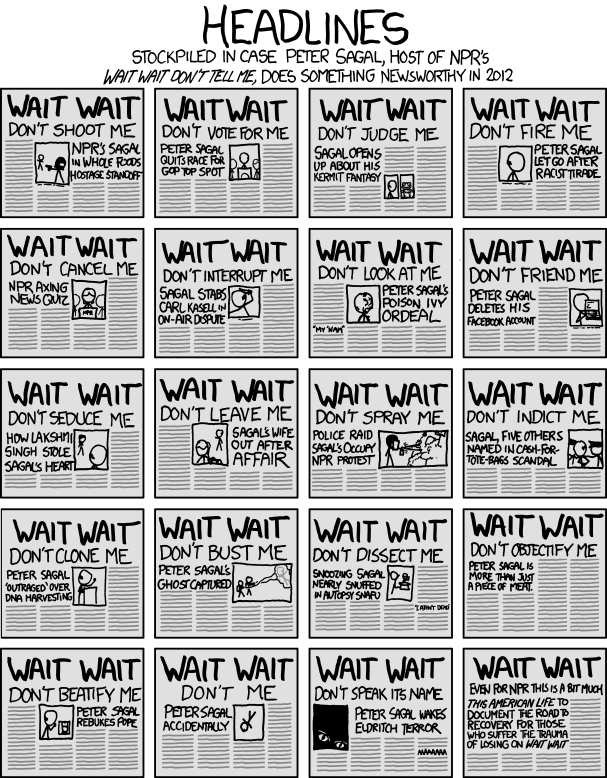 [Comic title: Wait Wait; alt text:
You can't stab Karl Kasell. He sounds all slow and stentorian, but he moves like a snake.]
Sometimes Randy makes comics that make me think he's just discovered those games you play where everyone makes jokes based on a certain snowclone, except he doesn't have any friends so he just makes a bunch of them himself and then uploads them as a comic. Now, I like those games. They can be quite entertaining and more importantly help to pass the time in a world where everything is tedium--a world where the closest thing I can feel to joy or happiness--indeed, the only thing I can feel at all--is smugness.
The thing is, those things are mostly only funny at the time. There might be one or two that are genuinely funny, but you need to set up the flow of the game first. Most people with good taste simply leave the conversation in the past and move on. But some people--the Randall Munroes of this world--decide that the world needs to hear all of these not-really-that-funny jokes that seemed great at the time, all for the sake of the one or two good ones. But this isn't building up to a punchline. It's setting up the necessary frame of mind so that the punchline is something that you have a distant hope of finding funny. And the best of them--"wait wait, don't speak its name," in my vaunted opinion--isn't really that great.
Does it seem to anyone else that Randy's doing a lot more shotgun humor lately?