[Noted pirate king "The Pirate King" sent me this review, which is fortunate, because I didn't actually mind this comic that much. -Ed.]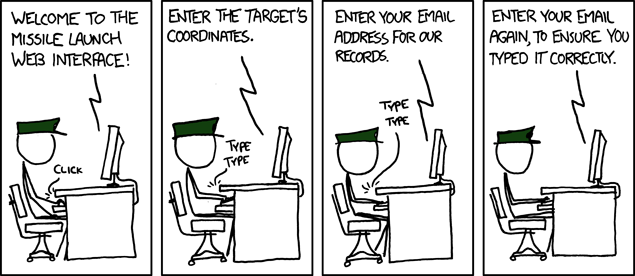 [Comic title: The Important Field; alt text: I hear in some places, you need one form of ID to buy a gun, but two to pay for it by check. It's interesting who has what incentives to care about what mistakes.]
Oh my god this is a stupid one. I mean really, really dumb, in a lot of ways.
So we see some soldier (I guess?) using the "missile launch web interface". This idea is ludicrous. Randy knows it is ludicrous. It's likely that there are people out there who believe this is how the defense department actually operates, and this comic could become somewhat coherent as a jab at them (durr hurr the medias are so dumb hurr), but he doesn't really take it that way.
It's like he's criticizing the interface of a website that doesn't exist, and if it did, that he would never, ever see, and probably wouldn't look anything like how he portrays it. And even if this weren't atrociously implausible, one would assume that the soldier would have to provide some kind of login information to get on there, and logins are always tied to an email.
So maybe he's trying to mock a more general trend in account creation? You'd think he'd pick a more accessible example, like a bank site I guess? I suppose he's annoyed that they expect you to repeat your email twice? Well that's just stupid. The email is the only part of an account that you often can't change once you've created it, because that's how they send you your reset password, so it's the most important not to fuck up. I've lost newly-minted accounts to that accident on numerous occasions.
The alt text is stupid too, and doesn't make any sense in relation to the comic. "DURR HURR PEOPLE SOMETIMES CARE MORE ABOUT MONEY THAT THE SAFETY OF OTHERS!" Well no fucking shit, Albert McSherlock Picasso.