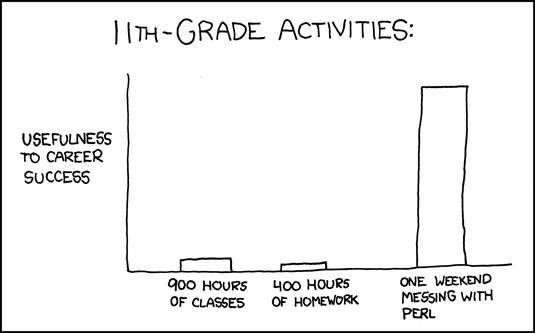 I know it's Rob's week but good god we have got some problems here. Make sure you read
his post
, but christ I just couldn't avoid a horrible rant of my own.
Ok I guess I will make a list or something.
1. This is yet another
goddamn chart comic
, making two comics in a row where the most complicated shape drawn is a parallelogram.
2. It doesn't make sense at all. Who's career is he talking about? His own? I think his drawing and "comedy" are probably helping him more with this particular career he has chosen, and I do believe he began this comic with drawings done...
in class
! For example,
when he was in 11th grade!
In fact,
there is nothing about his career as a cartoonist that would be affected how much perl he knows
except that he wouldn't be able to make jokes about perl, which isn't that often and they usually are lame anyway.
2a. Perhaps I am being to harsh on him. Perhaps he meant
in general.
Or wait, no, that's even stupider than the original idea. Very few jobs need to know perl. Sure, some do, and for those people "messing around" with it might be more helpful than class (unless you went to some kind of KRAZY PERSON SCHOOL where they taught
entire classes
about computer science!). Some jobs - chemist, biologist, mathematician, physisict, writer, historian, to name but a tiny fraction - are very much served by what the learn in high school. SORRY THEY CAN'T BE MORE LIKE YOU, RANDALL.
3. This comic goes against everything I think as a
nerd.
School was where learning happened! It makes people smarter! Now you've got a whole bunch of shitty forumites saying things like "
glad to be unschooling with my kids
" (I don't totally know what that means but I don't like it) or "
Screw History, I'm not going to be a History teacher or a Historian!
" which just makes me -and I'm not a historian, except of xkcd- feel terrible just a person who values knowledge and intelligence.
4. Randall, you are 24 years old. You graduated from college two years ago. Are you really at the right age to decide what skills are best needed for a career? Your career is currently selling t-shirts with pictures and words to people who find them amusing.
5. Leaving aside what actually helps you in life, for you to say that you know better than all your teachers - even if, miraculously, you are right about all this and the graph is 100% accurate - is still ungodly arrogant and I want to punch you in the face.
6. Oh, alt-text. You loveable little motherfucker you. "And the ten minutes striking up a conversation with that strange kid in homeroom sometimes matters more than every other part of high school combined." AWWWW, YOU SHOULD TALK TO STRANGE KIDS. IT IS THE MOST IMPORTANT THING THAT THERE IS FOR YOU TO DO! This is another of Randall's condescending "oh please, don't worry your little self, I know what is best for you to do" comments, like when he said "
you should kiss people more
!" or "
the other time he told you to talk to strangers, as well as a lot more stuff
" You know, I remember reading a comic once where a nerdy guy does this, he goes to talk to a girl because she seems quirky in an appealing way, and then it turns out she sucks. OH RIGHT THAT WAS XKCD, BACK WHEN IT DIDN'T SUCK WITH THE FERCIOUS POWER OF 2000 VACCUUM CLEANERS AND 8 BLACK HOLES. it was right
here
. It was a good comic! It
made fun of the

whole idea
that it is a good idea to talk to strangers. It made you
think
it was going to do that preachy shit but then it didn't. Ahhh, the good old days...
7. I'm sorry, I just keep coming down to the outright lie of this. Really randall? You never used
physics
in your career? The one you had at NASA? You don't think
math
is important? And don't give me that "uhhhhh well the important stuff I learned in college" bullcrap because you sure as hell have to learn the basic stuff first, and you have to learn it somewhere.
8. All the stupid forum posts are about "duhhh this is true duhh school wuz boring ah ahm glad ah didn't pay atenshun" but the point of this comic isn't
"
school is useless
"
it's "the only really worthwile thing to do is fuck around with perl." And what the hell happened to Randall's "
ha ha, perl SUXXX i'm using python now, bitches!"
mindset? what made him change his mind??
9. This comic is terrible. Truly terrible, on basically every level. Sometimes I wonder how I would react if I met Randall Munroe, and I used to think I would be angry but at least polite. Now I am thinking I would just punch him in the face and leave. TOO BAD YOU DIDN'T LEARN HOW TO DEFEND YOURSELF FROM PUNCHES IN YOUR PRECIOUS SCHOOL