First off, you may be interested in knowing that this is the 200th post on xkcdsucks.blogspot.com. Hurrah! For my postaversary, randy has been very kind and given me an ungodly bad comic. It is bad in so many different and interesting ways. It has bad art. It has hardly any jokes. It demonstrates both condescension and a total lack of understanding of the subject. And it has him telling a dude he's going to sleep with the dude's daughter. And a crappy alt-text. In other words, on a scale of 1 to awesome, this comic is somewhere between 165 million and 173 billion. Let's take a deep cleansing breath, and begin.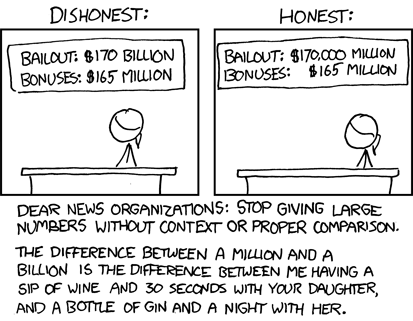 Ok, first off, this is an old old old idea. The idea that with numbers that big, the human mind does not have an instinctive sense of scale for them is called
innumeracy
, and was described by Douglas Hofstader (we meet
again
!) a while ago. While it makes sense on that instinctive level, for Randall to say that people can't tell the difference when they are thinking about it - say, when watching or reading the news - is just insulting. What, just because you went to some fancy math college you are the only one who knows how much bigger a certain number is? You think people are really like "durr, well 165 is close to 173, that's only different by like...uh....12 or something...so i guess 165 bamillion is close to 173 mabillion or whatever, sure ok"
Come on man! We know what numbers are! we know how numbers work!
we're not idiots
and you are not the only one who has unlocked the Giant Mystery of Which Number Is Bigger. This is an important lesson: People are not dumber than you just because you think you are smarter than them. The message of this comic is obnoxious and patronizing.
--------------------------

Also, it's not true. Media sources are giving context. I have spent a few minutes on google news finding this following:

- From one
"Michael Lewis" at Bloomberg
, a genuine member of the mainstream media, for example, makes, astoundingly, calls attention to the Big Number Problem: "above a certain number the money becomes purely symbolic. The general public has no ability to feel the relative weight of 173 billion and 165 million. You can generate as much political action and public anger over millions as you can over billions. Maybe more: the larger the number the more abstract it becomes and, therefore, the easier to ignore." This column was rereported in the
New York Times
, also an important "news organization" (and before you go 'see randy is right people can't tell the difference' they are making different points - Mr. Lewis is saying that we can't fully comprehend such differences of scale; randy is saying that people won't realize there
is
a difference.)
-Kiran Chetry of CNN -a part of the mainstream media- asked
internet famous person Ron "Dr. Ron Paul" Paul about the mess, pointing out: "you know, all of this hemming and hawing back and forth over this stimulus, which, I mean, over these bonuses -- which is a lot of money; I mean, $165 million -- but then, on the same day, the Treasury just floods the market with $1 trillion." he asked him about this on CNN. On TV. note what Kiran did there!
compared the amount of money to a bigger amount!
it's almost like CONTEXT.
-One "Charles M Blow" wrote a
column in the New York Times
- noted member of the mainstream media -
making the exact point randy says people aren't making,
saying
yeah, the bonuses pale in comparison to the amount we gave AIG. They even included
a graphic explaining just how different the scales are
. Mr. Blow says: "I know that there are bigger, more pressing concerns. I know that these bonuses are a mere pittance relative to the bailouts that A.I.G. has received. In fact, if A.I.G.'s bailouts totaled $100, these bonuses would amount to less than a dime. I know all this, yet I don't care. I want that dime back to restore my faith in fair play."
Randy = fail, again.
--------------------------

Charles Blow (if that is his real name) is exactly right, and Randall is exactly wrong, for another reason: Here's why people care more about the smaller number: the 173 billion (or, for you dicks out there, 173,000 million) was to stop the company from dying and destroying the whole country and civilization as we know it from collapsing in fire and terrible destruction etc. But that 165 million was literally just handed out to dumbasses. The executives were like "well, now we've got lots of money, let's just hand it out to people" and then they went up to dozens and dozens of their high-level workers and were like "here! take a million dollars! do whatever the fuck you want with it." And that tends to....outrage people.
Here's the problem from another point of view: The bailout money, the 173 billion, was for the whole company. The company is, of course, operating at a different scale when it comes to money. AIG has more than 110,000 workers, according to
wikipedia
, and, whether you think 173B is reasonable or not, it's meant for a totally different purpose. The majority of the 165M was given out to (it looks like) less than 100 people.
that's fucking insane.
Especially given that these people
all sucked at their jobs and destroyed their company
it does not make any sense, in any way, to give all of them so much damn money. The problem with the 165M was not that 165M is a huge amount of money compared to 173B,
it's that it's a huge amount of money to give out to dumbfucks just because you feel like it.
Let's look at it from a third angle. Suppose there was a fancy new internet cable that went from america to europe, and all the media were reporting on how spiffy this new cable was and how fast it would make the internet. And suppose they said "this awesome cable is 3500 miles long and nearly two feet wide." And then suppose that Our Good Friend made a comic where he said "DEAR STOOPID MEDIA: you are making it look too much like those numbers are similar. if you were smart like me you would say, 'the cable is 18,480,000 feet long and 2 feet wide' and then everyone would be able to compare them! that is what you SHOULD HAVE DONE."
You see, the point is, the numbers are each big in their own way, and each represent totally different purposes.
they don't need to be compared like that.
but i am only getting started!
-----------------------------

Alt-text: Ha ha, NOPE. you can refer to
other, funnier examples of innumeracy
that you found online but it does not count as being funny yourself!
good try.
PS guys look at this dude
Leroy Jenkins
fuck shit up for some world of warcraft nerds! LOVE ME FOR THIS LINK
-------------------------------

Assuming that by using the right numbers but not accounting for imagined stupidity is "dishonest" is a pretty crappy thing to do. Really? Those numbers are correct, right? It's dishonest because they don't go "...and one of those numbers is a whole heck of a lot BIGGER than the other! do you see why, viewers?" To say that leaving out some non-relevant information is "dishonest" is bullshit. THEY DIDN'T SPECIFY AMERICAN DOLLARS, NOW DID THEY? that's dishonest! some people might assume canadian dollars! DID THEY SAY WHO GAVE OUT THE MONEY? the government gave out the 173B, the company gave out the 165m! yet you are
comparing them??
how very DISHONEST. Hell, you used the word "million" when some people
will not know that that means 1,000,000!
And you used "173" and "165" when some people will not understand that those symbols stand for numbers, and that "0" represents the concept od nothing, or, in this case, is a placeholder for the ones, tens, hundreds, thousands, ten thousands, and hundred thousands place! COME ON, MAINSTREAM MEDIA! STOP BEING SUCH FUCKING LIARS.
why, i do believe that you will
always
leave something out of the story!
t-rex sure found this out the hard way
! Anyway, i say that if you assume basic definitions of math in most viewers, that is ok. Not dishonest. not at all.
------------------------------

The art: oh god, the art. Why is that girl there? Is that a girl? Is that hair covering half her face? Is she at a desk? Sticking out of a coffin? In a bathtub (maybe spending 30 seconds with Randy!) A plank of wood supported by two sticks? Why in the first panel does her stick figure body end so far above the desk-tub-casket? she looks like she is only the top half of a person, and she is lifting herself up by the arms and swinging back and forth. Is she supposed to be on TV? Why is there so much empty space? Don't tv reporters tend to look at the screen? Don't they also tend to have faces?
Reddit user "Daizaru" had an
excellent comment
on this particular issue...
why did you just take this girl and put there as some random object in your little comic? Your stick-figure art is so devoid of detail, meaning and relevance that you would have been much better off without it. I feel terrible for the girl.
----------------------------------------------
And saving the best for last, what a creepy fucking comparison to make there at the end. Is this why you say your comic is about "romance"? Getting drunk and spending the night with some girl whose dad you know? Who the hell still talks to fathers about their daughters, are you 16 years old and living in the suburbs of the 1950s? Do realize that if you somehow worked up the courage to actually
tell
a father this you would immediately get the shit beaten out of you? Why would you
do
such a thing? Do you realize how sketchy it is? Referring to "my" daughter, or the reader's daughter, just makes people feel gross inside. it's not funny. it's threatening, or would be, if i had kids and you were at all a threatening person.
--------------------------
There are times when I will admit that xkcd is so bad, I kind of enjoy it. I don't think I've hated one this badly since that "
how i spent 11th grade
" comic. Channeling so much rage into one massive blog post is in some twisted way a lot of fun. So thank you, Randall Munroe. It takes a lot to get so damn much wrong in a single comic, and not even a long one. It is a rare talent indeed.
so, in this moment, as i finish this, my ungodly long 200th post on this Website of Love - and as I near my one year anniversary! - i say to you, Randall:
thank you. for all that you do.