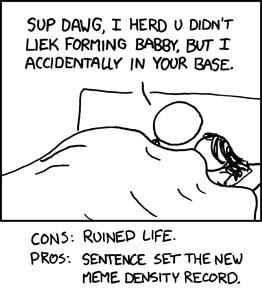 Today I am happy to say that frequent commenter poore has stepped up to the bat and will knock this ball of shit comic out of the park and into the cesspool in which it deserves to live. I have some thoughts at the end; as usual, interested guest-bloggers should
e-mail me
. Ladies and gentlemen, I give you....poore!
-------------------
Ok, as a former /b/tard and someone who has been called a "meme machine" on multiple occasions, I feel unusually qualified to comment on today's xkcd.
Let me first say that meme humor in general is difficult to replicate in ANY form other than its most common - forum threads. The simple reason for this is that much of the humor derived from memes is the real-time generation of the content, and the interplay between all the posters contributing to a given thread. Like a Tristan Tzara performance, a good jazz set, or Foxy Shazam, it's an experience you can't really appreciate until you get to see it live.
Once you translate the living, breathing concept of meme humor to a static medium such as a webcomic, you've already removed a large part of what makes this particular brand of humor special. That being said, static meme humor CAN be done well; it's difficult, but not impossible.
Actually, let me elaborate: it's not impossible for someone who takes the time to really analyze the nature of Internet humor and then dedicates a large span of time to carefully crafting a joke that fully utilizes the knowledge they've gained.
Randall Munroe is no such someone.
What Randall failed to realize is that just quoting memes is not funny. As it turns out, this fact is part of the genesis of the moniker "/b/tard". While there are a few truly brilliant comic minds lurking in the shadows of Anonymous, most of them are drooling idiots whose only method of communication is "Ctrl+c", "Ctrl+v" and whose pathetic brains are utterly incapable of generating anything vaguely resembling an original thought.
Randall - you just dove headlong into the midst of this pathetic, throbbing mass of humanity, and I (and most of your readers, I should hope) am left wondering,"why?" Is this some elaborate attempt at self-parody? Are you trying to be meta? Are you just throwing a bone to the /b/tards to buy their loyalty?
I suspect the latter, but I digress.
As I said before, just quoting memes at random is not that funny. However, Randall did try to spice it up a bit by making himself (err, the anonymous stick figure in this comic) bring up a bunch of random memes in an inappropriate situation. Unfortunately, quoting memes in inappropriate situations is only occasionally funny, typically when there's a high shock value. While bringing up random memes during sex might be kind of inappropriate, it comes off as more "wow, that guy's dumb" than "oh my god, did he REALLY just say that?"
Think of it this way: it's the difference between saying "So i herd u liek mudkips?" in the checkout line at the supermarket (which is just stupid and not all that funny), and yelling "That's what she said!" during a solemn silence at your grandmother's funeral.
If you want to really be funny with memes, you have to apply them in highly-appropriate, well-timed situations, but these opportunities very rarely present themselves, and even then it requires that everyone involved be familiar enough with the particular meme being referenced to understand
why
said meme is appropriate and well-timed in the current context in order for maximum humor saturation to occur.
Had Randall spent the time to craft such a situation, this comic could have been great. Instead, it's just retarded.
As a final note, why would messing up a single sexual encounter with a woman completely ruin your life? Do I detect a little bit of insecurity, Randall? Perhaps a sense that yet another failed relationship will cast doubt upon your sexual orientation? Have you just given me another piece of highly-speculative, grossly-misinterpreted piece of evidence for your latent homosexuality?
I THINK YOU HAVE, RANDALL. I THINK YOU HAVE.
============
OH NOES PEOPLE poore used all caps at the end there! Attack! attack my loyal commentors, ATTACK!
I'll add just a few comments to the end here:
Part of the issue with the memes, as poore alluded to but didn't, I think, say explicitly, is that they work in conversation, as part of the interplay between people. Part of it is also that it is fun to try to twist a meme into new situations (think lolcats --> lolphilosophers, lolpresidents, lolinsects, etc). this is why I enjoyed rickrolling: people got really creative in terms of how and where and on what scale they tricked people into hearing that song (a meme from 4chan going all the way to a Mets game is freaking awesome).
Putting memes into a comic generally destroys both of those: The conversation is not present, of course, and also the artist can construct however many crazy situations he wants in order to work his meme of choice in. Clearly, this is what happened a few months ago. There's humor in taking the situation you are actually in and applying an outside idea to it; when you create the set up for your own hi-larious punchline, no one cares.
And it should go without saying, but I am just damn sick of meme comics in general. In addition to all the problems above,
Randy just relies on them too damn much
.
Also: Dammit randall, we know that you are trying to influence the culture of the internet. You told us
at the end of the year
that you wanted "yo dawg" and "accidentally ____" to be the New Hit Memes of 2009 so when you jam them into your comic two months later it just reads as transparent and pathetic. We
know
that you are a 4chan reader randy, but
that doesn't make you cool no matter how much you think it does.