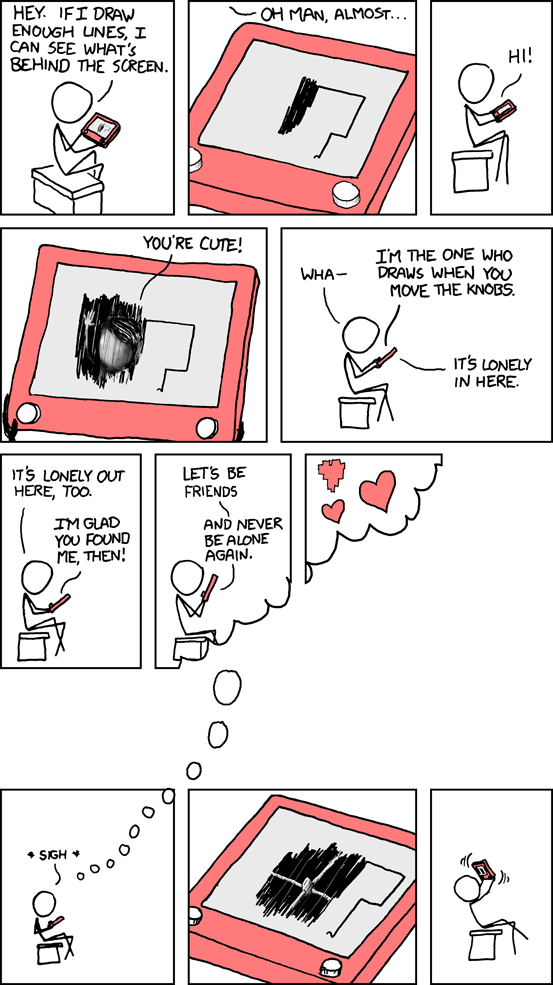 The worst thing about this creepy-as-hell comic is that I knew, when I first read it, that xkcd fans were going to
love it.
It's so
adorable!
Look at how very lonely that man is; don't you just want to give him a big ol' hug??
No. I do not. I want to give him an informational pamphlet entitled "So you fall in love with tiny women inside toys: A guide for the fucked up." Honestly, how messed up is this guy? He's sitting with a kid's toy. He imagines that there is a
tiny woman trapped inside the toy.
And not even a normal looking girl, it's girl who looks
scary as hell
. And she is desperate enough that she immediately falls in love with him and he is so pathetic that he does the same.
How can you say that's an adorable thing to imagine? I don't know about Randy, but when I see old toys I do not immediately think "perhaps this item contains a potential love interest!" Well, when I see
child's
toys at least.
Anyway, I guess now I should just sit and wait for the anonymous commenters to tell me why I'm wrong and why this is actually totally sweet.