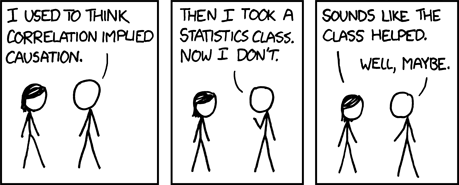 Well, looks like someone has been
taking statistics classes
. What we have is a basic little statistics joke. He is noticing a correlation
about correlations!
and he is wondering if learning about causation has caused him to...um...think that way about causation I guess. It's a simple joke, told in simple pictures, and I suppose it's clever for what it is. I can't get very excited about it (it's not as clever as the last statistics comic) but I can't say it's terrible either. Certainly better than memes + wikipedia, and nerdy in the way xkcd used to be. This one totally feels like he could have written it in his notebook in stat class.
A different angle: like with some previous comics, this one seems like a general attempt to make an easy joke that stat people will like, print, cut out, and put on their walls. "A special xkcd, just for me!" they will think. Please:
do not blindly e-mail this comic to all of your friends who use statistics.
It is annoying. It is not nearly funny enough, or faliing that obscure enough, to warrant spreading like
beer pong herpes
.
---------
My heartiest laugh that was correlated to (and caused by) a comment about correlation and causation was when
Nate Silver
was debating
John Zeigler
on some dumb online tv-type show. The conversation went something like this:
JZ: But 75% of the people who heard [X] voted for [Y]!
NS: Ok, but that doesn't mean they voted for [Y]
because
they heard [X]. You of all people should know that just because two data points are correlated doesn't mean one caused the other.
JZ: But with numbers as high as 75% ??? Come on!
This made me laugh, because JZ was being a giant idiot. You can have as much correlation as you want and it still can mean nothing. ha ha, stupid people.
----------
From nowhere: I find that God's eyes blinking on
this Overcompensating
freaked me out. A comic like that, that is just about always static, should stay static. This is crotchety-old-man me speaking, but I just think it's weird. (
this dinosaur comic
is a little better because the movement is so obvious, it doesn't sneak up on you all of a suddent)
======
update
: See how up there I predicted that statisticsy people would spread this comic around to all their friends because
hey, look, it's a statistics comic!
? Yeah well I was at least a little right: Noted smart person Steven Levitt has apparently broken his "no cartoons" rule for the very first time to bring you
you-know-what
.
curse you, levitt!