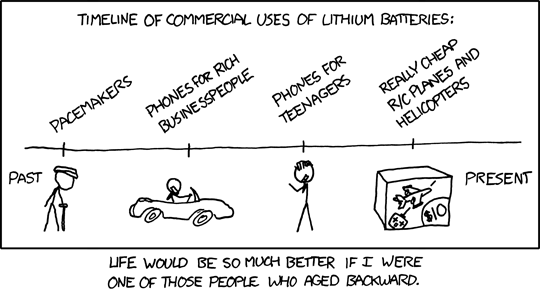 Apparently lithium batteries have been used in such a way that as time went forward, they became more prevalent in prodcuts that are generally used by younger people. So we see the Great Progression of Batteries, like the great Progression of Mankind, from Old, to Middle Age, to Teenage, to Child.
Then Randall says that he wishes he could have aged in reverse - now I'm not sure
why
he wished this. I suppose he's saying that if he started old and got young, then
he too
could have followed the progression of lithium batteries.
What I don't get is
why the FUCK HE CARES.
Ok, woo, your portable electronics can have
lithium batteries!
whoop de damn do! take that, you fuckers who like alkaline batteries more! fuck you!
Look Randall. You are growing up in the 21st century (as you occasionally
remember
). You can age
the normal way
and still get to use lithium batteries all the time! You will be old, and you can use a pacemaker, with your beloved battery in it! Or maybe we will have invented something even newer and shinier for you to put in your heart. Then you'll be glad you were born like every other human, eh?
Honestly, your
first attempt at living-backwards humor
was funnier. Don't try again.
Ok i'm sorry to harp on it but seriously: Why not say "my life would be better if I were really rich" ? You could buy a businessman phone if you felt like it in the late 80s, it would just be expensive and a waste of money. You could have a pacemaker installed, too, but i don't know why you would. Why not "my life would have been better if lithium batteries had been used in different products at first, targeted at a younger demographic"
what still makes no sense is what the hell is so special about lithium batteries? Wikipedia tells me that they have "a liquid mixture of thionyl chloride (SOCl
2
) and lithium tetrachloroaluminate (LiAlCl
4
)" which "act as the cathodeand electrolyte respectively. A porous carbon material serves as a cathode current collector which receives electrons from the external circuit." Well hot
damn
.
Clearly, this comic is meant to express some important feelings Randy has been having recently, which is why I'm not sure why he didn't just come on out and say it: