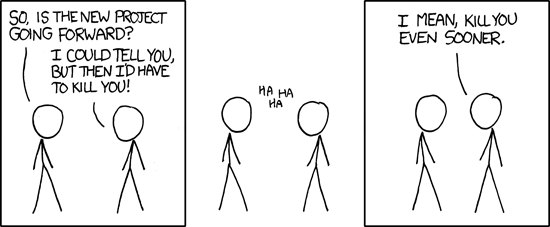 oh god. I don't think this comic deserves very much of my time. It's just so
stupid.
He makes an abhorrently cliched old joke, then he, ha ha ha, acts like he wasn't kidding. He is still kidding, of course - absent any other information at all about these people we have to assume that they are run-of-the-mill xkcd losers, and they don't kill people (unless someone is wearing a hat), they just act sarcastic and self-important all the time.
So basically what we have is a stupid old joke, where someone pretends it isn't a joke, and that in itself is a slightly less old, slightly less stupid joke - but not by much. It's like saying "speaking of giant whores, you know who's a giant whore? your MOM" and then waiting to the (hopefully brief) laughter to subside, and then saying "no but seriously, your mom is a whore, and I paid her to have sex with me. Frequently." It's like taking a stupid joke and saying "nope, i'm not just going to say this stupid thing and move on, I'm going to double down on it and pretend i really think the circumstances of the joke are true. Love me."
Ugh, and in addition to everything I just wrote, panel 3's wording just pisses me off: It should be 'I mean, sooner' or even just 'sooner.' The repetition of words 'kill you' makes it a lot worse, a lot more cumbersome with no benefit. Actually, xkcd did recently have an
example
of a half-decent final panel. In both cases, the last panel should be used to finish a sentence that we had thought was already over. The last few words are added to subvert the meaning of the first part. It works well in the g spot comic, in this one, by starting a new sentence Randall loses out on the benefit that phrasing could have given the comic.
Like most things in life, it reminded me of the simpsons, specifically, Season 4, episode 1,
Kamp Krusty:
 In their subfreezing cold cabin, the children lie in their bunks
 while the counselors head across the lake to ``meet some tail.''
 
 Lisa: I feel like I'm gonna die, Bart.
 Bart: We're all gonna die, Lis.
 Lisa: I meant soon.
 Bart: So did I.
Obviously that version doesn't suck.
Jay, are you posting next time? I don't even know what is going on anymore.
------------
Have I mentioned that MS Paint Adventures is still really pissing me off? I think we've talked about this before, but the intermission is over and it is still true. The story is so convoluted and now is jumping around between so many people, so many times, and so many different interactions that I just want to give up. Maybe I will.