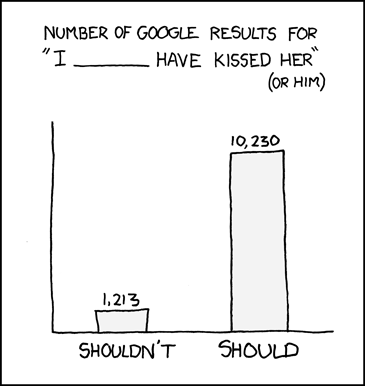 I think we can all agree that this is not in any way a
funny
comic. Basically it's saying more mopey internet people wish they had kissed someone than wish they didn't, assuming they used the exact same phrasing as Randall used here.
ASTOUNDING!
The fact is that people don't do things more than they do things - for example, I currently regret not eating a burrito for lunch. I also regret not eating a delicious sandwich for lunch, I regret not eating several pounds of chocolate for lunch, and most of all, I regret not starting a multimillion dollar computer company during lunch, because I really would have liked that. It's not that people don't kiss each other enough, Randall, it's that people regret things more than they are glad about things they did do. That's why google gives 3 times as many hits for "I should have" as "I shouldn't have."
And anyway what is your point? That people often regret not kissing other people more than they regret kissing them, so you should kiss people more? Thanks for the tip, randall! Any other helpful advice? Because I have some advice for you: Stop writing a shitty romance advice comic, because we don't really care what you have to say.
And anyway, the "kiss people more" idea was already done way better by
qwantz
, and you can even buy that one on a shirt:
And as to the alt text - "And nothing for 'I'm glad I saw Epic Movie' " I can only say that currently, there are also no results for "I'm glad I read xkcd."