[
Vote fraud is a serious business. Request a paper ballot when you go to vote this November.
Unless you support different candidates than me, in which case, don't.
]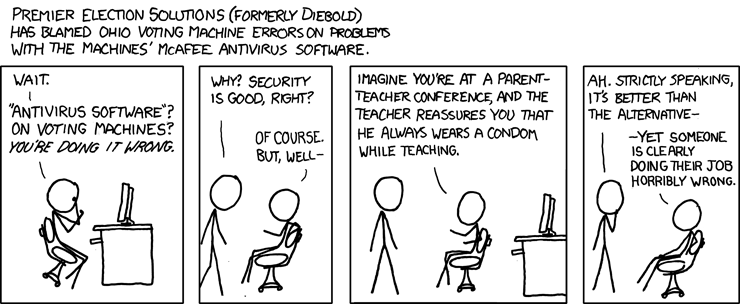 As I have occasionally alluded to, I have been thinking about getting guest writers to post here. Hearing the same voice on every xkcd strip may get tiring. So here's our first one, from Mr. Stanley Spitz:
------------------
This comic is pretty good. I mean, who doesn't chuckle when they're anticipating under-age rape? Only normally-adjusted adults, and none of them read (or blog about) xkcd anyway. But we can't just settle for "pretty good" and "chuckles" and "rape" and move on with our lives because our blog a mission (see left). Does our friend Randall have a mission? Is he using protection? Is it ribbed or spiraled? This comic helps us look at these tough questions.
The most important thing about "Voting Machines" is that it uses dialog at the thorough expense of any visual humor.
"But Stan," you may ask, "isn't this true of every xkcd? I mean, they're all talking stick figures."
"Huh. I GUESS," I might reply.
"Furthermore," you may continue, "aren't the emphasis on dialogue and the deliberately amateurish art part of the fun, even the satire, of the strip?"
"Well, crap, you've got me there," I might say. But I wouldn't say that because I've got a bigger, rantier point to make.
Indeed, the satire of using stick figures for a comic is pretty neat. Next time you open a newspaper, think about how many of the comics could have their figures replaced by featureless stick-figures with no loss of effect. Consider today's "Pearls Before Swine,"
Fig 1
The early xkcd comics ingeniously comments on this sad state of affairs. The smudgy hand drawn-art and the stick figures devoid of any expression cleverly show what little art is left in today's comic strips.
Fig 2
But we all get into trouble when we forget the joke. For example, I used to deliberately mispronounce "Chipotle" as "chä-pōt-əl" to make fun of people who said it like that. Now, I've just gotten into the habit and look like an ass when I say "Guys, let's hit Chä-pōt-əl," without realizing it.
So it is with Randall. These days, his characters aren't so amateurish and unexpressive that they're a form of statement -- they're just poorly drawn. Like today, they've got some expression (what with the pondering in panel one and the gesticulating in panels two and three), but it (1) doesn't add anything to the comic and (2) weakens the satire. I could point out the weaknesses with this xkcd strip by replacing the characters with early-xkcd characters.
Fig 3
And when you produce the thing you used to satire, it's time for a little soul-searching.
---------------------------------
THANKS, STANLEY.
I don't agree with everything he wrote, but it's still interesting. I'll have a post later tonight about the actual text and joke of the comic.
If you are interested in writing something for this blog, shoot me an e-mail -
czwheeler@gmail.com