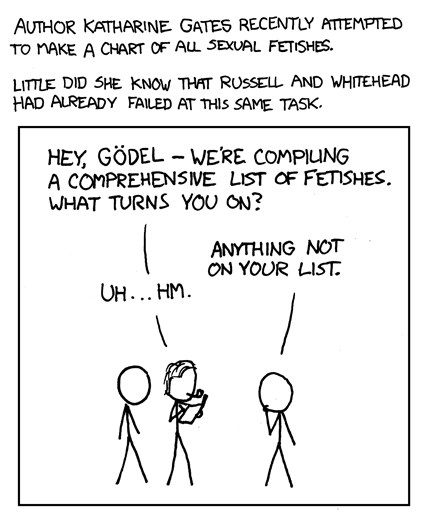 As stated
previously
, I am very busy these days (only for another week though!) and I was not going to comment on this comic, but then a commenter offered to do my work for me and so how could I say now? Like the
two previous
guest posts
, I don't agree with all of it, though in this case that's because it's at an intellectual level waaaaay above what this blog is usually at. I think its author knows a serious amount about logic and stuff. The author declined to give a name, so I made one up. Ladies and gentlemen, please welcome the xkcdsucks stylings of Jermane Snappybritches!
========
#468, at first glance, looks like yet another let's-make-oblique-reference-to-something-intellectual-instead-of-having-a-real-joke comic, which may be mildly amusing but fall short of being funny. However, if you are familiar with logic and set theory this comic isn't amusing, but rather will bug you because of the mistakes it contains. If I were Randall I would draw a graph at this point correlating amusement with knowledge of formal logic, which would make a nice bell shaped curve. I won't though. With that said, here are the comic's problems:
1) #468 seems to be an attempt to wring humor out of a self-referential membership paradox. Famous examples of this sort of paradox are "the barber who shaves every man who does not shave himself, and no others" and "the set that contains all sets which do not contain themselves". If you suppose that the barber does shave himself then that contradicts the claim that he shaves only men who do not shave themselves. And if you suppose that he doesn't shave himself then this contradicts the claim that he shaves every man who doesn't shave himself. The comic seems to be alluding to this kind of paradox, with the idea that "Gödel's" fetish can't be on the list, but neither can it be missing from the list. The problem with all this is that the man famous for dealing with and introducing these kinds of paradoxes is not Gödel, but Russell himself (see, for example, his famous 1908 paper: Mathematical Logic as based on the Theory of Types). And Russell and Whitehead's Principia Mathematica contains rules explicitly designed to rule out the introduction of such paradoxes, again because they were aware of them long before Gödel arrived on the scene.
So why bring Gödel into this? I don't know, and it seems to indicate a misunderstanding on Randall's part. It's true that Gödel threw a wrench into the work begun with the Principia Mathematica, but he didn't do so by raising a contradiction for it. Rather he showed that if every statement or its negation had a proof within the system then a contradiction would result. Therefore he concluded that there wasn't a proof within the system for every statement or its negation. This is a clever use of contradiction, but it does not amount to Gödel posing a devastating paradox for the work of R&W, as the comic seems to be implying. So that's problem #1: what the hell is Gödel doing in this comic?
2) Problem #2 is that there is no real contradiction involved here. In the comic R&W are collecting a list of fetishes, not names for fetishes or expressions of fetishes. And thus "Gödel's" response poses no problem for them. Here's the simplest explanation of why: suppose their list was complete. Then "Gödel's" answer would be a complicated way of saying "nothing". And there is no paradox in that. Now Randall may have realized this; the alt text does say that they found a way to resolve this problem (although this may equally mean that he doesn't see it, since there is really nothing to resolve). But it goes on to imply that they ran into an infinity paradox. Which is also not necessarily the case. The list of candidates for fetishes may be finite. Or they may have reduced their list to one word "everything".
Obviously this is all very nit-picky. And in most cases I wouldn't bother to worry about such details. However, if you want to aim your comic at "intellectuals" you should spend some time getting the details right, just as if you made a comic aimed at mechanics you wouldn't want to confuse the carburetor with the catalytic converter (and I sincerely hope those aren't different names for the same car-part).
=============
If you understood all that you are a smarter dude than I am. I think what the last part means is basically "This Gödel guy has some fetishes. They are either on the list or they are not. Unless he's lying or just changing what he's into to mess with list people, which is not contradicting logic but rather being a douchebag, which is different." If that's not what Jermane is saying there then whatever, it's what I'm saying here.
Seems to me this comic was just Randall's lame way of mashing sex and logic in a way that feels very forced. As I told Jermane in our e-mail conversation, the joke could just as easily been "my favorite food is anything that's not on your list" or "my favorite pizza toppings are anything not on your list" etc. It was like Randall just went "ha ha i will add SEX and it will be hilarious tee hee sex." Also like he just went "Oh man I just finished reading
Gödel Escher Bach
FINALLY so hey I'll write a comic about it kind of."
Also, just so people know, as far as I am aware all three of our guest posters are, in fact, different people. I am quite sure of this.