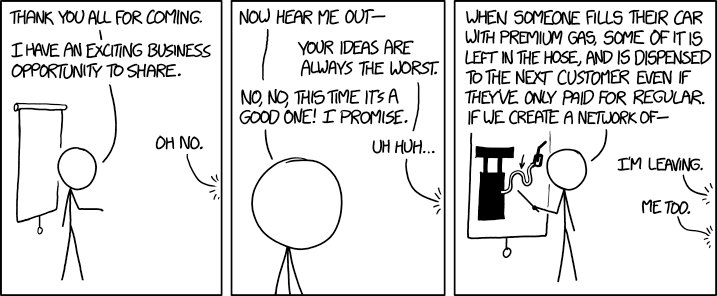 [ALT: We didn't believe you at first, but we asked like three people who were at that party. They not only corroborated your story, but even said you totally mentioned wanting to start a company someday. Sorry! If this isn&'t enough money, let us know.]
First, 826. Zach Weiner's guest comic was a lot more popular than the others. He definitely put more effort into it and had more jokes etc etc. I vaguely liked it but it was kind of underwhelming. Not even bothering with a real review.
Now for 827! As has been noted many times in the comment thread by now, this one has potential. The seed of the idea is pretty good. But somehow Randy's execution just leaves me cold. There's a lot to be said for a proper satire of the "that was my idea first" mentality--and Randy didn't say any of it. It's so close, and yet so far away.
Whenever Randy does this it seems like he tries to put the joke in the wrong place. My theory now is that he tries too hard, and kills the joke with hours of mindless revision. You know how, if you say a word enough times, that word stops having any meaning? I think Randy does that with his jokes. He revises and revises them, without any outside input, until he can no longer tell what's funny and what isn't. And then, even if it started with an awesome idea, he has something which only vaguely resembles a joke.
Maybe he just stops revising after a certain number of revisions. That seems like the kind of thing he'd do. "After exactly 50 revisions the comic will be at its best possible point," or more likely he has some bullshit formula involving diminishing returns.
Anyway, welcome back, Randy! Try not to suck so hard.