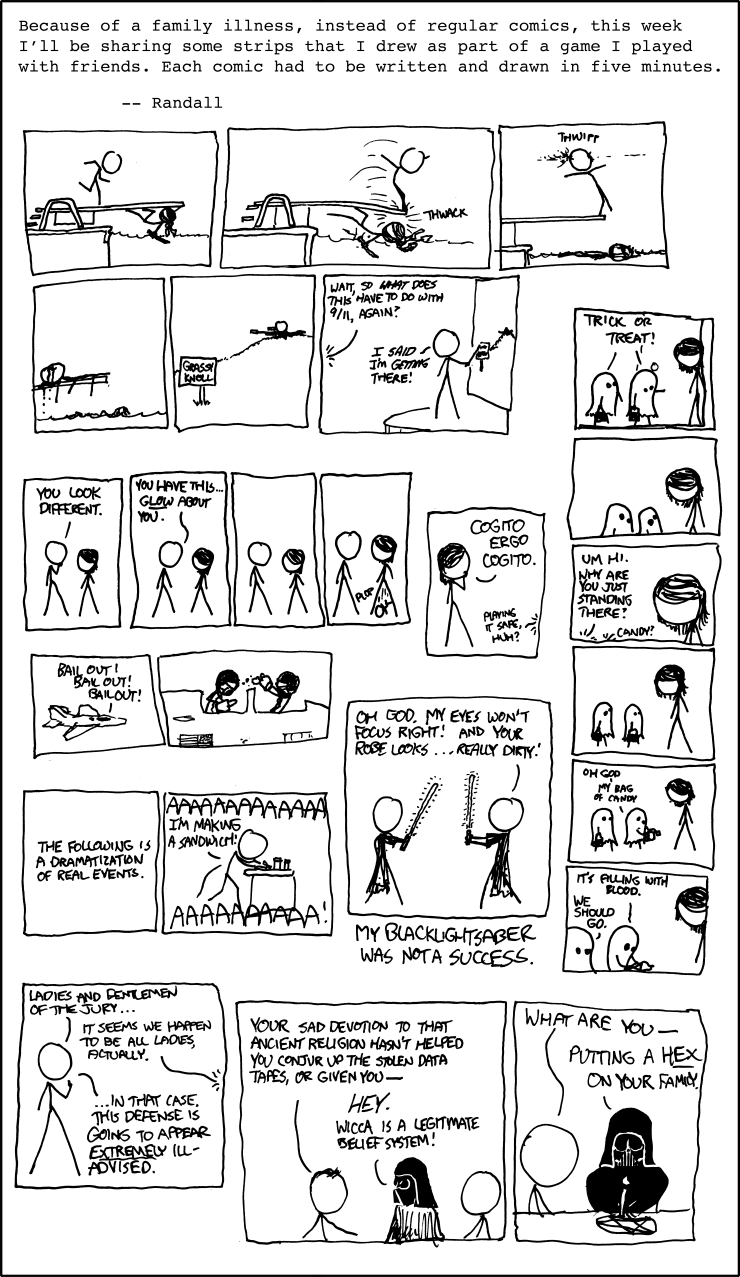 [ALT: Dear Wiccan readers: I understand modern Wiccans are usually not all about the curses and hexes. But Darth Vader was recently converted from Episcopalianism and he's still figuring things out.]
[I basically forgot about a review for the latest one. Luckily everyone's least favorite hell demon "shufti" has been wailing in my basement recently. What follows is a transcription of its hellish cries. -Ed.]
Guys I just read the new xkcd and seriously, I'm in the middle of having my perceptions of the universe shattered as a result. I mean, there's just no way he can be producing decent comics, no matter what the circumstance. Think about this. It's been a year of shit since comic 631 (aloria called it VaginaGate but she's a cheap pandering whore so I will not follow suit).
THINK ABOUT THIS.
ONE. ENTIRE. FUCKING. YEAR.
WITH NOTHING BUT SHIT.
Now we've got adequacy? Not greatness, of course, just adequacy, but
still
. What else could be true that our preconceptions are denying us? Is the TSA really a sensible organization, the thin line of defense between us and the terrorists? Were there really weapons of mass destruction in Iraq? Is Pepsi actually better than Coke? WHO KNOWS NOW, RANDALL IS CURRENTLY BLOWING YOUR MIND. As opposed to blowing his Heterosexual/Mathematical Life Partner Steve, of course.
At any rate, I think it's important that, no matter what, we act in a sensible manner here. Everyone get out there, do your part, and start killing off Randall's relatives so he can keep produce semi-decent comics. Or
violate causality
. Whatevs.
All right, on to some actual criticism of the comics. Lets start with the basic premises: we've got a 9/11 conspiracy comic, a noodle incident comic, a comic about witches, a comic about Star Wars, a comic about witches AND Star Wars, a pun, a riff on Rene Descartes, and a riff on a common aphorism.
Oh yeah, I left out one. It's about childbirth. No, wait, that one doesn't exist. Just repress that one people, just like all his other shitty childbirth comics.
*Ahem* What's the common element between all these? They're basically recontextualizations of common sayings or events. To put it in less
pretentious
verbiage (for the complete fucktards in the audience), all these comics are about taking something familiar and skewing it in some way. People say "ladies and gentleman of the jury" a lot...so what if the entire jury was made up of women?! People say "cogito ergo sum" a lot...so what if one person was a complete intellectual coward when she decided to say it?! That one dude in Star Wars mocked the Force as a religion...so what if Darth Vader subscribed to an actual religion?! And so on.
A different phrase for what's happening is cognitive juxtaposition, which - again, if you're a complete fucktard - means you have a mental image of what is
supposed
to be there, but your expectations are subverted by what is literally there, creating a kind of dissonance or tension that results in laughter (Once again, I'm sorry to all you fucktards, but that's as simple as it gets. If you don't understand this then I weep for you. And by weep I mean mock. You sad, pathetic bastards).
TL;DR Randy made some funny, so kill.
Oh yeah and webcomics.me has more posts now I guess. So we can stop musing Carl is dead.
[Do these hideous syllables have anything to do with the latest comics? Heaven only knows! I know they filled me with mortal terror. And also with loathing. Mostly loathing. -Ed.]