Guest posting this week is still Person #1! woo hoo
Alright. Let's do this you guys, let me take you all on a love adventure.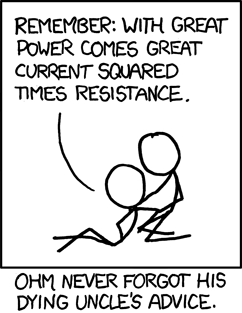 First and foremost, I personally liked this one. It gave me a little chuckle. I know many of you disagree, but I don't care because Person #1 is taking over this blog and there is nothing you can do about it!
That being said, there are flaws in this comic and I will point them out! First of all, as Sam F points out correctly, the sentence is structured slightly awkwardly. "Remember: with great power comes great resistance times current squared" would not only read much better (I stumbled over the current squared at first, and am apparently not the only one), but the "res" in resistance also further alludes to the word "responsibility", as in "with great power comes great responsibility". This is simple enough to fix and just further demonstrates how Randall would benefit from an editor.
I also find it
appalling
that Randall, with a complete lack of any evidence whatsoever would accuse Ohm of plagiarism. In fact, my research has revealed that Ohm never had an uncle, much less one that he witnessed die. Check your facts, Randall. Children read this comic.
But seriously, there is not all that much to say about this comic, it's a small little pun. I liked it, I can understand why you wouldn't. A variation I have seen before is "DragonForce = DragonMass * DragonAcceleration", so I guess this one also has been done before, sort of. Though it's not quite the same.
In good p#1 tradition, let us look at some of the eloquent grokings on the fora;
...well this is odd... people seem not to be taken by storm of the genius that is everything embodying Randall Munroe. Well, there is one post:
My side hertz from the burnt cheese.
(note that this is in response to a link somebody posted, not the comic)
I honestly have nothing to add to this one. It's perfect in every imaginable way.
Okay. Let's talk about the alt text now:
"More generally, with great power comes great dEnergy/dt"
Well, that's the same pun with a different execution.
And with that, I leave you. For now.