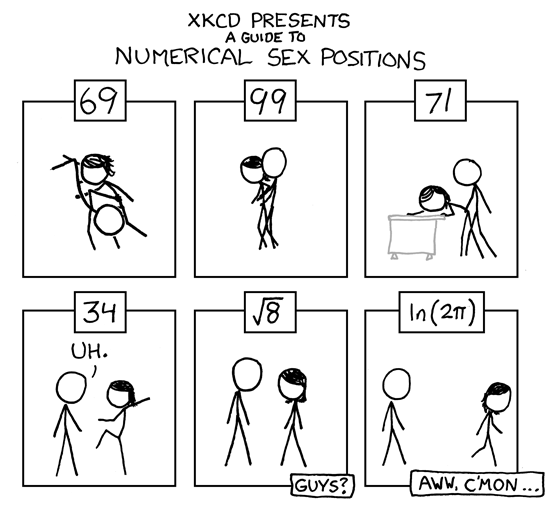 The first thing that struck me in this comic was that it was a little disturbing. I believe - though I could be wrong- that this is by far the most graphic xkcd we've seen. Panel 3 in particular seems a bit jarring.

But the second row is pretty good. I like the interaction between the narrator (so to speak) and the characters and the fact that the comic starts off being a sex joke and ends as a nerd joke. I approve heartily of this, especially given the tendency to go the easy sex joke (hence the ubiquity of "that's what she said," for example.) Perhaps a little more of the characters responding to the narrator, not just the sort of passive quitting, but still, this is probably the best attempt we've seen in 20 or 30 comics, at least.

I'm not sure we need the "xkcd presents a guide..." Seems a little like "woo!! look, it was my comic that did this! just try to copy it and not include attribution NOW! ha ha."

Can anyone think of a more graphic xkcd? I don't think we've seen one.