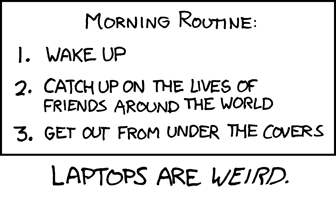 Like
comic 432
, I feel that a comic that took this little effort from the artist hardly deserves that much more effort from me. I mean, this could have been a
bash.org
quote, and a below average one at that.
I like how Randall pretends that the only thing people do on computers early in the morning is see how friends are doing. Certainly no one reads any form of news, or plays any games or anything. No, it's just about being
social....
Also, the last line is 100% unneeded. A, you can do that without laptops, and B, once we see that you are still in bed, we
know
you are using a computer from bed, and that's where most of the joke is, as little of a joke as it is. Imagine it for yourselves - same comic, minus last line, = slightly better.