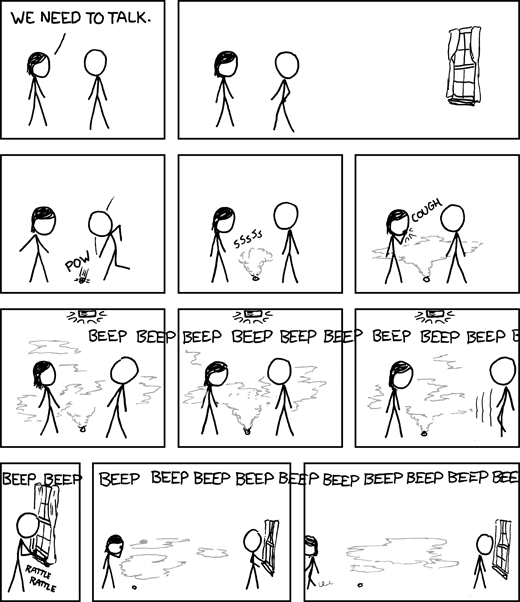 Christ. Where to begin. I guess I might as well get out at the beginning: Stop it with the break up comics. All your characters are ending
relationships
. We
get
it. You
have
some
horrible
relationship
problem
- it's been a damn long time since you had a
happy
relationship comic.
But this comic, I am pleased to say, has so many other flaws that I am happy to overlook the same tired old "woman breaking up with dude" thing that I'm so sick of. The problem is the joke here, if you want to call it that, is such a tired old gag that I hardly believe Randall stooped to it. The one that jumps to mind is Krusty The Clown trying and failing to look like he's appearing in a puff of smoke in Treehouse of Horror 9, story 2. Youtube is being uncooperative
but it's there somewhere, I tell you
. And it's close to this.
Moving on: Even if the window had opened, the man doesn't even try to run. He just stands there, kind of floats backwards with these wiggly lines (where do I remember
those
from?), and then he kind of calmly tries the window, fails, and stands there. I was at least expecting to see the awkward moment afterward but we don't get to see the
consequences
so it feels like only part of the story.
There's also no
energy
. Besides the third panel, there's hardly any movement and it's all careful and slow. This situation completely calls for hectic energy and being insane but it's just not there.
On so many levels, this comic disappoints.
extremely late update:
Also, it turns out the Simpsons did it - the fortune teller at the very end of
Lisa's Wedding
also drops some kind of smoke device, but when the smoke clears, she's still sitting there, looking tremendously awkward. Guess it's kind of an obvious joke, huh?