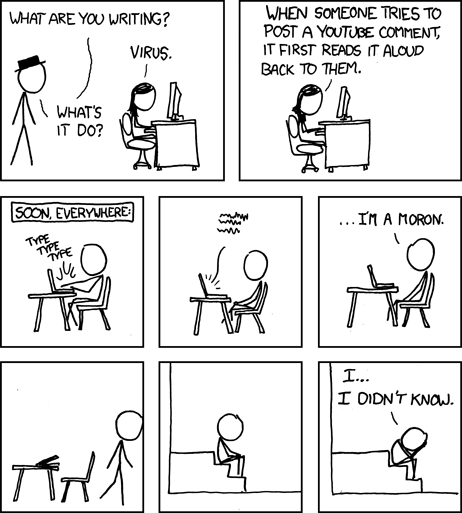 First off, I'm skipping
Comic 480
because my entire post would be "eh, that was kind of funny, but it seems like sometimes you are putting no effort at all into these."
Ah, youtube commentors. A fitting target for anger. Probably, though, you already know what I'm going to say about it. But just in case -
This is comic is absolutely nothing more than a lamer version of comic 202
. Both have exactly the same point - Youtube commentators are idiots and they write stupid things. Funny, yes, but no more so now than it was then. There are also a few reasons why the first one is better anyway -
- He actually gives examples of comments, which even if made up are pretty funny and are similar to what you'd see on youtube, whereas the new comic just kind of mumbles through it
- The new comic has a totally lame and unneeded Mr. Hat appearance
- There is a totally unneeded "ooh check it out I'm making a virus, i'm such a cool hacker" panel.
Anyway, I guess there isn't much more to say but this is basically a kind of sad shadow of the first Youtube Commentors comic. I mean, what's next? "My hobby: Drawing a map of the internet, and it's like got facebook over here and digg over there" or "Dude check it out, if you go up to him and say 'Sudo buy me a donut' he
totally
has to do it!" ?
Seriously, you need to make comics that aren't just reformations of old ones.
And you know what? While we're on the topic of dumb comments, I foolishly took Greg's advice on
my last post
and read the comments on Mr. Munroe's soon to be pulitzer prize winning novella and let's just say there are a few people who could use that virus even in the generally intellectually brilliant world of xkcd:
"you should consider writing entire books filled with this awesome."
"now i can get through class by thinking, what would this look like xkcd style and everything is so much better…until i realize its not but that's what pie is for"
"Ron paul should be shot"
Bastions of sophisticated discourse, right there. But I'll be damned if you ever see Randall mention anything about how his own commentors are sycophantic lapdogs who live only to breathe the air that the glorious Randall once may have breathed, or perhaps stood near.
And as a final note, there was one comment on the story that truly made my day...

I wonder if that guy at xkcdsucks makes any money off his blog about your blog, how sad, he can't exist without you to complain about, it would be really annoying if he was profiting from such ugly parasitism, is he making profit off of complaining about you? I want to know cause then I can make money off complaining about him complaining about you.
If any of you know how to make money off this blog do e-mail me. However, I am concerned that this Apropos character has learned my deep secret - without xkcd, I cannot exist! I will turn into a greenish vapor and vanish, making all around me puzzled and perhaps doubting their sanity for the rest of their lives. Also, if the idea of this "ugly parasitism" making money bothers you, my god, don't ever listen to talk radio. Or watch the news in an election year.