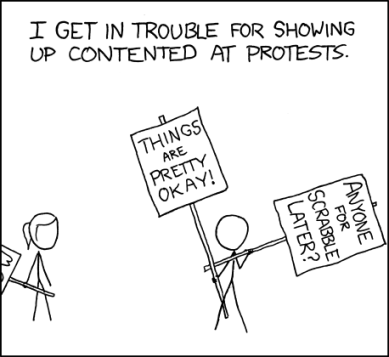 As you all
know by now
, I am too busy currently to post my own thoughts. this will change soon. Until then, let's welcome back our good friend
Esteban Smarinetti
for his thoughts on this comic.
---------------------
I can certainly handle snark/pretentiousness. Some would even say I deal almost exclusively in that domain. I am generally spiteful of people apathetic to politics. I can put up with them, however, so long as they don't vote out of ignorance. Combine snark and pretentiousness with political apathy and ignorance, however, and, well, you can expect a beatdown on my end. Taking it one degree further, if you're not only apathetic to politics, but look down on those who do care about politics with snark/disdain, you would be first against the wall if I were king (wouldn't I make a good Stalinist?).
xkcd is now permanently on my shit list
.
Some would say it's easy, and perhaps even encouraged to make fun of protesters. Some would say that complaining about the political slant of an online cartoonist is a waste of time (those who feel this way probably don't read this blog). And some would say the larger themes I'm seeing in this webcomic, which is inherently a lark, are not only insignificant, but not even there. To counter point 1, consider wherein the joke of the strip lies. The joke is not about making fun of the irrationality of protesters; we don't see protesters doing anything particularly crazy. In fact, the sincere protester, as petite and earnest as a stick figure can be, just stands there in dismay. What Randall is making fun of is not the craziness of extremist protesters, but
the entire concept of protesting
. The joke implies that the ironic billboards are actually the correct stance: that things are somewhat ok, or maybe not, whatever, it doesn't really matter anyway. For a purported hard science defender, this comic reeks of hipster postmodern smugness. Didn't Randall once have a strip promoting
slicing a hand off
these kind of people?
Secondly, yes, Randall's following amounts to nothing but a particularly weird subculture, but within that subculture, he's a lead player. Not only is every xkcd strip guaranteed to make the front page of Digg, but the very competition to submit the latest xkcd and get your article on the front page has created a
Digg subculture
of its own. People who claim to be nerds worship the ground that Randall walks on, give him a free pass under any circumstances and flame anyone who disagrees. It's one thing to have this kind of following when it is unmerited. It's another to have this following when you're having a
negative, pernicious impact
. Of course, if popularity on Digg was taken verbatim, the Republicans would be nominating Ron Paul in Minneapolis this week en route the fast track to the White House.
But keep in mind how crucial Internet subcultures have been in post-Web 2.0 politics. It's arguably the main reason Obama eventually overtook Hillary Clinton for the nomination (or at least surpassed her in fundraising), and it's the reason
George Allen's macaca comment
turned a potential Presidential candidate into a Republican loser in a red state. Even when the internet and social media doesn't directly impact politics, it's an indication of where the future is heading, so it's where the mainstream media looks. Randall has already gotten written up in
Wired
, and he's fast on his way to becoming one of the impresarios of web culture as its influence only grows stronger. All this at the same time as he's basically promoting apathy and distain for people who do care among his legions of followers. Keep in mind that, with the Internet aflame in the wake of the Democratic Convention, Sarah Palin's nomination, the upcoming scaled-down GOP Convention and Hurricane Gustav echoing Katrina, this strip couldn't have come at a worse time in terms of taste (though Randall probably thought the exact opposite in regards to his timing, as it injects himself and his ego into the political fray at a peak moment, however stupid his commentary may be).
Finally, in regards to whether the deeper meaning exists, you can take the strip at face value if you want. I was trained from an early age to look for deeper meanings in images and cultural artifacts, no matter how banal they may ostensibly seem. If you see any other deeper meanings to the strip, or find evidence that contradicts the deeper meaning I see, feel free to leave it in the comments. Until then, Randall Munroe, you are dead to me.
---------------------
My main thoughts were a) this is not that funny, and b)
Simpsons did it!
When the Simpsons visit Washington DC (way back in 1991!) they see these protesters in front of the White House. As you Randall's "Things Are Pretty Okay" is very similar in particular to "Things Are Fine" + "A-OK." Not going to say he stole the joke, but you must admit it's close...
And now that we're at it, it's not all that different from a
Toothpaste For Dinner
comic from earlier this summer...