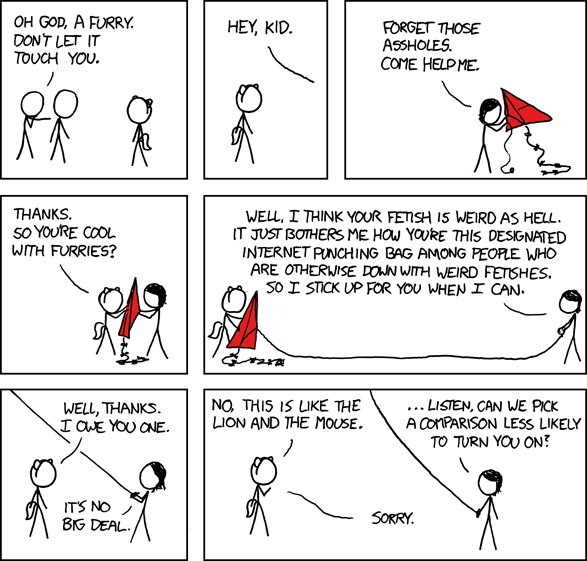 This comic makes me realize there is a whole new category of xkcd comics that I haven't really noticed before: the smug "aww, I'm so much better a person than everyone else" comic. With, of course, the typical xkcd "hey guys look I know what some internet memes are!"
So what do we have - Weird Dude is mocked by everyone except the Kite Flier (and we know randall is a
kite person
) who is kind and understanding. Rob noted in a
comment on the last post
noted that "It's usually pretty obvious when Randall is getting preachy. They are usually neither very subtle nor very clever." I think this is both. "I stick up for you when I can." Seriously? Why not just write "I am nicer than other people! Won't you love me, world?"
I get tired of writing this, but again, what is the joke supposed to be? People are mean to dude dressed like
Tails
, then Randall is nice to him, then there is a brief remark about appropriate analogies. The "joke" at the end feels like more of a tagged on attempt at a joke, not a real punchline. Or was the whole thing about how nice he was really supposed to be leading up to "ha ha, you chose an animal themed analogy!"
Better endings include:
-Kite Dude is actually not tolerant; whole comic has been a set up for a massive prank of some kind
-Kite flying somehow connects to being a furry, perhaps it turns out he can fly or something, and he helps with the kite
-Furry turns out to be totally deserving of his reputation, like he's totally creepy or something like that.
Obviously those are not funny on their own, but I suspect that at least one of them could be worked into something better than the out-of-left-field random fable ending that.
I say it all the time, but just to be fair I'll say it again: I don't hate this comic, I just think it's very Eh and not very funny. And could easily be better.
PS - if you are going to comment and say that the kite dude does not represent Randall, don't bother, you're wrong.