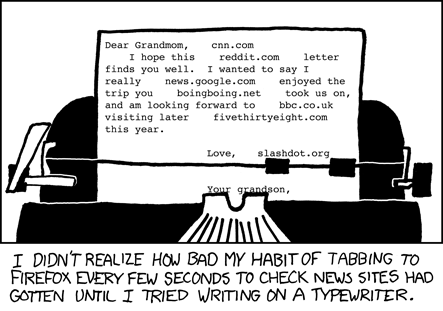 Just a few quick words on the typrewriter one: Basically it amused me. Obviously it is not realistic at all (you know, he would probably notice at some point that reddit.com did not magically appear on a screen in front of him) and I don't like that the joke in the alt-text is the same as the point of the comic, but I will admit that I am a sucker for the
www.fivethirtyeight.com
reference...oh well. On the whole, well above average, I would say.

This one, on the other hand, made me think some thoughts. Beret Dude has been seen by my count six times before -he was
being very interested in squirrels
,
kayaking
,
hanging from a tree
, (with his hat stapled to his head)
thinking he was going to a bakery
,
thinking he was in a bakery
, and then being
inexplicably quiet as a bartender
. And now here is he again, being Totally Wacky! and also destructive. So I guess the idea is he is just a crazy and energetic new character? It feels, like the
n
th Debian reference in there, a little forced. "Say hello to Beret Man! His thing is that he has ENERGY! and he's insane. And that is all. He is SO FUNNY. I will probably put him on a shirt soon." Is this a new character we can count on seeing frequently? If so, I hope he becomes less...single minded and flat.
In any case, the best staple related xkcd will always be
#262
. Read the alt-text.
And of course, move the
Megan Count
up to 5.
also, why is the "yes" at the end coming from above? The best I can come up with is that the man has been stapled to the ceiling but that seems unlikely to me.