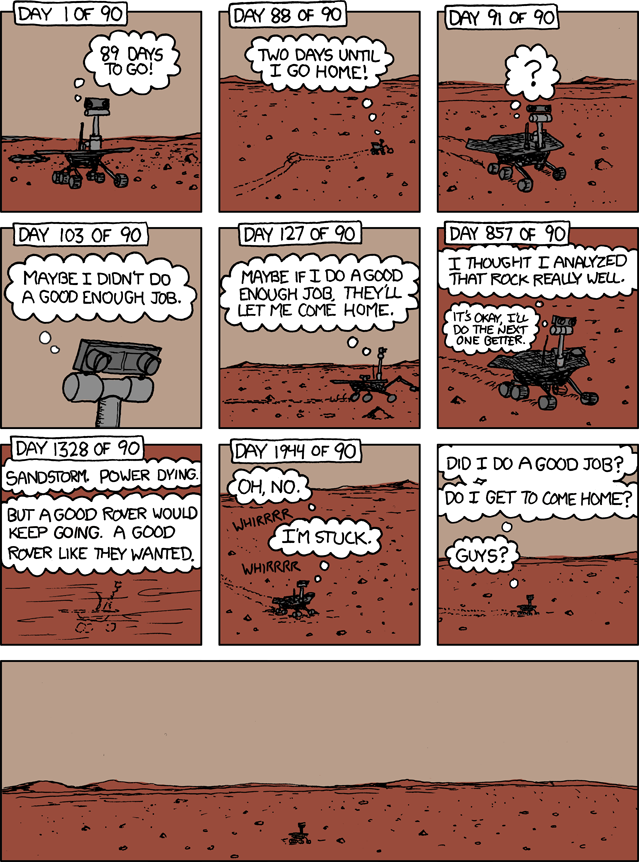 Maybe NASA wouldn't have abandoned you on mars if you weren't such a
whiny bitch.
Anyway, this is another of the "man+machine" comics, and to be fair, we haven't had one of those in a while. But that's still all it comes down to - what if the mars rover felt bad? HA HA, it would be just like a sad human. Cry, readers, cry! For you can feel sad for the rover.
But, to quote someone reading this comic over my shoulder, "you can't make me feel bad about leaving a rover on mars. I refuse to feel bad." Unfortunately, it looks like a lot of xkcd readers actually are that easy to manipulate, and are all sad about this robot having human feelings. Or again,
there's this
.
---------------------
guys I know I have been super bad at keeping up with comments and e-mails, and I still haven't written that post about the ads I put on the site and the SPECIAL CONTEST which i am still figuring out, but hopefully next week I'll be able to catch up on that.
----------------
Also, guys, I was looking around the internet and I found a photo of Randall that I think explains a lot about his comic and style, anyway tell me what you think, it's
here
.
ok I just photoshopped that picture, and poorly at that. But still, i think it's a funny idea. has anyone here made that joke before?