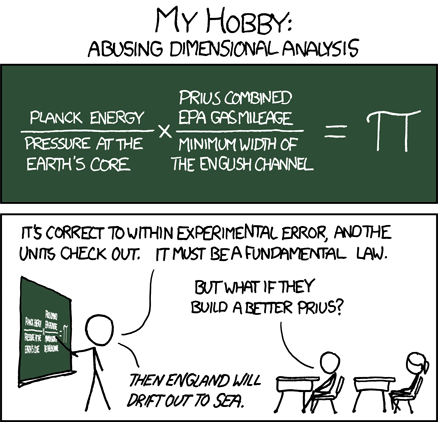 In today's comic, we see stupid people acting stupid in front of other stupid people, for our amusement. I am not sure that "abusing dimensional analysis" can really count as a hobby for Randall, at least as portrayed here, unless "college degree and a few years selling shirts on the internet" are now enough qualifications to teach science.
I think at its heart there is a funny idea in the center of this comic, something centering around a guy who is totally convinced that "England will drift out to sea." Perhaps in part because it is an island already, and it could move a few inches every century without consequence (maybe it is? I don't remember, the examples they always give are India or Mount Everest or something). And I think using italics for it was good - you probably know that I am a fan of judicously placed italics (but I will not work an example in here because i am
just that classy
).
Still, on the whole, the comic doesn't add up for me. Perhaps if he had shown some of his work in the equation you wouldn't need comments like "
I'm interested in knowing if the math works out
." As it is, you have to take a seemingly random equation on faith, or do the work yourself. I think it's funnier to know that Randall actually put in effort to finding random data that ends up equalling pi, but beyond his say so you wouldn't know it just from reading the comic.
Then, of course, he hits you with way too much info in panel two - the jump from "here's an equation" to "it must be a fundamental law" is important to the comic (otherwise he couldn't draw the conclusions he does later) but it's thrown in with little emphasis. In part, that's because the students ignore it, and jump into asking questions about implications, where you are already on your next set of stupid-people assumptions. When Randall has pacing problems, it's usually taking too long with what he's writing; today, I think he speeds through his content too fast.
Also, in the "realistic dialog SMACKDOWN" report, I don't think anyone would say "but what if they build a better prius?" to that question. "better" would be a Prius with laser beams that could shoot at crappy drivers. "More fuel efficient" is the natural way to ask why he is asking.
And of course, the alt-text is a gigantic let down. Perhaps if he had made some sort of hyperbolic "earth's pressure rising and killing us all!" joke as the main joke, and then the thing about England drifting off to sea as the alt-text, it could have worked better.
--------------------
other news:
Even though Aloria sucks at blogging, I let her do it because she is very rich. In fact, Rich Uncle Aloria is the only person who responded to my recent demand for presents, sending me a
Dinosaur Comics shirt
along with a note that I smell like the inside of an old lady's handbag. This is true, there was actually such a note in the package. thanks, aloria? Anyway to keep things creepy she also demanded a photo of me wearing the shirt, and so I have uploaded one here:
also the new motto of this blog is "cool shirt, lame pants!"
---------------------------------
Still seeing how ads on the site are working out, still looking for feedback. If anyone's worked with Google AdSense before and wants to give me any
advice
, that would be awesome. If anyone is super bored and wants to double check that I am not violating their
policies
that too would be great. In a related note, in order to appease the gods of Google, I CAN NO LONGER SELL FIREARMS THROUGH THIS SITE. THIS SITE IS NOW ONLY ABOUT WEBCOMICS, NOT A PLACE WHERE YOU CAN BUY FIREARMS. we all have to make sacrifices.