1008.

[Comic title: Suckville; alt text: Suckville is considered by the Census Bureau to be part of the Detroit metropolitan statistical area, despite not being located anywhere near Detroit.]
This comic opens with some banter that I've basically heard before, and then carries on in that Randally tradition of "LOL WHAT IF WE TOOK IT LITERALLY" for boring results. Honestly the joke in this one didn't bother me much, but there are two glaring flaws.
First: making fun of Detroit is like making fun of creepy white knight webcomic artists. It's obvious, predictable, and boring, and real comedians steer well clear.
Second: what the
fuck
is going on in panel 3? Why is she turning into some eldritch monstrosity? Apparently it's meant to be "motion blur" where she turns over or some shit but... what the fuck? It was sufficiently bad that one of the forumites made
this
. So good.
Finally, let's visit one of the
echochamber's
resident aspies to see how they feel: "I still don't get it, mainly because I don't get how this is possibly taunting in any way. Telling someone that they live in a ghost town doesn't sound so much taunting as plain old bizarre. A distraction, maybe? Rather than a taunt? Similar to 'I need a pee/beer/new hat'."
1009.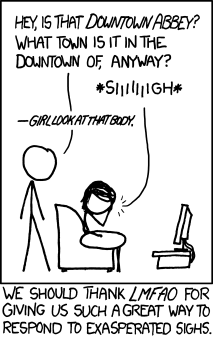 [Comic title: Sigh; alt text: "If you're annoying enough, you can get them to respond with an involuntary second sigh and get a rhythm going."]
This comic right here is why this blog exists. It's not enough for Randall to be plastered all over the internet, no. He has to subsume reality, and encourage his legion of cuddlefish to turn everything into an XKCD reference. And mark my words: there are even now cuddlefish out there who are now saying "girllookatthatbody" every time they hear someone sigh. Randall is actively trying to replace reality with an awful, XKCD-inspired hyperreality.
This is probably one of the more egregious examples, because he is encouraging them to simultaneously reference both XKCD and LMFAO. It's hyperreality at its worst: ultimately the objective is to make it so that people can no longer sigh, or hear a sigh, without thinking of this manufactured pop culture. This is what Randall does for all of his references. This is what his fans willingly do. They are trying to turn the world we live in into nothing more than a series of references to other things.
He's carefully crafted a following which eats up references. He makes a comic which relies heavily on reference-based humor, and creates punchlines which are easily used as references in certain situations. References are the lifeblood of XKCD, and given the nearly religious quality XKCD takes on in nerd circles, making something as common as
sighing
into a reference must be a goddamn spiritual experience for them.
This sort of thing happens all the time. Something pop culture happens and you can never do a thing again without people thinking you are making a reference to that thing, or, alternatively, making the reference for you if you don't. Previously, though, these acts have been avoidable--nobody will force you to drink White Russians, and you can work words you once used that are now catchphrases for popular television shows out of your vocabulary. But you still had to change yourself in some way in order to avoid the hideous creeping hyperreality.
Now Randy is trying to make it happen for something that is almost involuntary for most people. Maybe you could avoid ever sighing, but it's the sort of thing that happens without thinking. And you never know when an XKCD fanboy will be waiting to strike. A red mist will descend on you, and when you emerge, you're covered in cuddlefish blood and hear yourself screaming 'WHERE ARE YOUR NERD REFERENCES NOW?' at their lifeless corpse.
No jury will convict you. Maybe this isn't so bad after all.