1047.
In this comic we get a list of equations! I can't be bothered to check any of them to see if they are supposed to be funny or useful or what. I looked at this and basically lost interest immediately because I couldn't fathom a universe in which I would ever care about it.
1048.
I AM SAD BECAUSE OF CANCER. HERE IS A CHART ABOUT MY SADNESS.
1049.
As much as I hate to be even remotely negative of anything bashing Ayn Rand, I would be remiss in my duties if I didn't point out that Randy implies that he agrees with the majority of her philosophy except for the part about being a dick. This means he is a colossal moron.
And now, for your viewing "pleasure," here is a guest review of 1048 from possibly Jon Levi, possibly someone just pretending to be Jon Levi, who even cares: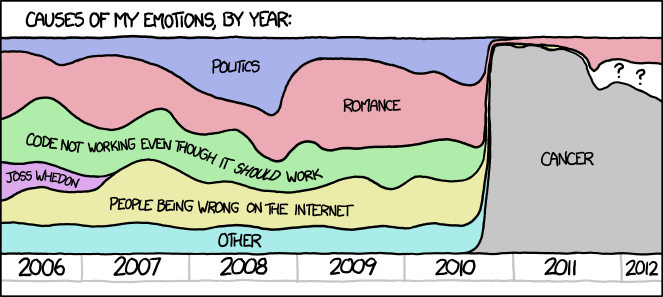 Title: Emotion; Alt text: Fortunately, the internet has a virtually inexhaustible supply of code that doesn't work and people who are wrong, which bodes well for a return to normalcy. [Note: Click to read context for the cancer comics. She's doing well.]
Diagnosis report for Patient ID XKCD1048, who is hereafter to be referred to as 'Patient R'
During a productive therapy session on Friday 27th April, I asked Patient R to write down a list of all the things that made him emotional in the last six years. He quickly listed six items, but struggled to think of any more. I suggested he filled in the two blank spots with 'other' and '? ?'. He then insisted on plotting a graph of them, which is extremely troubling. If the graph is truly an accurate representation of how he feels, then Patient R is mentally ill and needs strong intervention.
At any one time in the last six years, Patent R has felt strong emotion continuously and persistently towards five or fewer things at any one time (according to the graph). These are clearly obsessions towards unimportant emotional triggers. Perhaps he spends hours at a time reading all the political articles on a news blog, or poring over a piece of broken code. In his mind he is pressing the same metaphorical buttons again and again because he lacks the capacity to be bored by them.
His emotional ritual has no room for other triggers such as music, nostalgia, and injustice (beyond the narrow categories he has defined). It is likely that he does not care for anything that does not ft his predefined pattern of emotions.
Patient R's condition degraded significantly in November 2010, when he emotionally latched onto an issue that was entirely beyond his control. At any one time since then, at least 75% of his emotions have been related to his wife's cancer. This combined with his older obsession of romance. Having such a complete infatuation with one person is unhealthy, and leaves him unable to respond emotionally to any other aspect of his life.
Perhaps the most troubling aspect is how well he hides it. In fact no one knew he had a problem until today. Patient R has put on a facade by pretending to care about other things, such as
DRM
,
space exploration
and
feminism
. Although looking back through his comic archive one can begin to see that some of his drawings were nihilistic cries of help. But he did not express the true nature of his problem until he decided to make a graph of it.
If he accepts the therapy, he will be pleased to know the condition is quite curable. He will be able to revert to a childlike emotional state, and rebuild himself from there. However the alt text of his comic exposes none other than a wish to return to the 'normalcy' of his pre-2010 period. If he declines, then I will refer him to Dr Ann Apolis M.D. for more intensive treatment.
Signed
Dr Jon Levi
The contents of this letter are private and confidential, and are not to be posted on any hate blogs.