oh good GOD i am happy to be back. last week was a steaming swamp of mediocrity from xkcd and so I suppose I am glad that I didn't have to deal with it myself, but it's this week now and we've got us a new comic.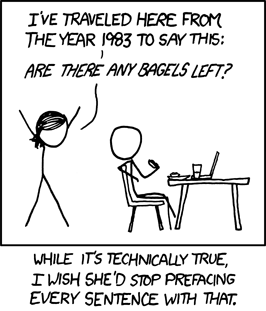 I'm not going to lie: This comic confused the
fuck
out of me. "She travels from the past in order to...demand bagels?" I thought to myself. "perhaps the caption will explain things....no wait, still nothing. Let me try harder." And so I read and reread this comic, for hours and hours and hours, until I finally understood what it meant. She was
born
in 1983, so she is
pretending
that she has "traveled" here for some mundane thing. When really she was just living her life! I get it now.
The problem is that when we see that girl and "1983" we have no immediate reason to associate the two. Because we can't tell at all how old she is, because all Randall drew was a stick figure with some hair. Hell, it looks more like some guys I know than a girl. Apparently she's 26, but she might as well be 12 or 42 or 8 or 90 for all we can tell. That's why it's so hard to figure out what's going on until you use just some cold hard comedic deduction.
Even so, I still don't like it. It's the same sort of stupid playing with words that you get from sentences like "this is the first day of the rest of your life" or that dinosaur comic about
a time machine that moves at one second per second
. And when I read the alt-text ("She also starts every letter with 'Dear Future
'."), all I can think of is the opening of that one Office episode when Jim steals Dwight's letterhead in order to send him faxes from his 'future self.' Much much funnier idea. Because there someone thinks they are hearing from their future selves; here, we just have a girl being annoying. Nothing more.

But I do have one thing that is nice to say about today's comic: Usually, Randall Munroe only has nice things to say about girls and only portrays them in a totally positive, cool, interesting, funny, sarcastic, etc, light. This is so that real-life girls will like him more. But today, he called a girl annoying! Maybe not in so many words, but it's there. So that's nice to see.

PS when the
hell
is that xkcd book going to come out? Isn't it like 3 months overdue?
thousands and thousands of xkcdsucks points to the first person to send me the needed html to make a "xkcd book is ___ days overdue" clock. let's say, for reference, that it was supposed to come out June 15th of this year (that's a nice approximation for "mid june" I think).
It
will
is proudly sit[ing] on my sidebar. [thanks to John for sending me the code basically instantly]