Your friendly neighborhood Rob here, filling in for Carl on uploading

Lompta

's treatment of 617, which is an abysmal wreck of a comic that should be wiped off the face of the earth! Let's see what Lompta has to say.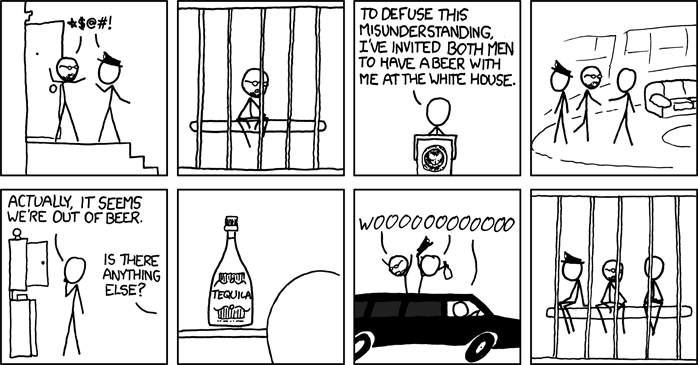 This is a surprisingly difficult comic to mock, mostly because there's no joke to attack in the first place. Randall briefly recaps something that was recently in the media spotlight, throws in the fact that alcohol can lead to irresponsibility, and calls it a night. Nothing is particularly funny about either of these tactics. It's pretty well established that people can act stupid when they're sufficiently drunk. It's also pretty well established that Obama is a fancy guy for deigning to step out of his magical presidential realm to solve a high-profile conflict. The alt-text is equally disappointing, because it's yet another observation that everyone has noticed before. Yes, graduate students understand alcohol from an experiential standpoint, just like current events do in fact happen and strong drinks can get you into trouble.
I think this comic actually says a lot about where xkcd has gone. Randall often makes strips obscure enough that people will feel smart for getting them (or just for reading them anyway, because it's a thing for smart people to do), and yet he still apparently feels the compulsion to make a joke about every major current event. One of the strengths of early xkcd was that it was so random, that it made good jokes but also wasn't afraid to be surreal. Comics like this one totally undermine that. Randall doesn't even have anything to say about the beer summit, really. He's a fan of Obama, and maybe just wants to remind everyone that he did a cool thing. So he draws a parallel, I guess, except that even that fails.
The structure of the comic, as far as I can tell, is supposed to go something like this: racist accusation (based on prior knowledge of encounter) leads to jail for single black professor, just as tequila leads to jail for black professor, policeman, and president. Other than the visual of people in a cell, though, there's really no parallel at all. If anything, it trivializes the difficulty Gates faced in the whole situation. Comparing an innocent man being jailed to rampant irresponsibility being punished is insulting, and also not funny.
And while I'm at least vaguely on race, it seems like a pretty stupid topic to cover in xkcd, because you can't even tell what color anyone is. The only way a reader can understand the core issue of the beer summit is if they already know about it, so in a year or so nobody will have any idea what's going on in this comic at all. From an outsider perspective, it looks like the president randomly stepping in to mediate an argument between a mysterious man in glasses and an anonymous policeman.
Also, the structure of the weak joke makes it even weaker. The punch line (I guess) of the three men in jail should come directly after the frame of Obama facing the tequila. Our imaginations are way better than Randall's art at thinking of the trouble they could have got in, and riding in a limousine shouting out of the sunroof is kind of cliche/lame to begin with.
Also, I don't think you can't put the president in jail anyway, at least not while he's still president, so this doesn't even make sense. That's a small weakness compared to the rest of them, but worth mentioning.
I guess I can only say so much beyond the fact that there isn't even a joke worth mocking. It also doesn't make sense in general or make any point that isn't conventional wisdom, but neither of those are necessarily essential for a webcomic. There's nothing here but the hope that people will find it ridiculous and therefore funny, mostly just because it's Randall Munroe saying it. He's a smart guy, but this comic is more than enough proof that he gets away with too much.
Or maybe he doesn't. Now that I've glanced at the forums, it appears that even the fans aren't happy with this one.
That's enough for this lurker. Lompta out.