just wanted to make sure we had a record of this. Apparently those times we thought "wow, this seems thrown together five minutes before midnight" were correct.
How much do you want to bet the comic will be about conventions?
update:
Good thing no one bet with me.
late update: oh hey, TomR sent me his post. let's see what he says.


Hey, I'm TomR. Youll probably know me more from the
CouldBeBetter forums
than the blog, because Internet Explorer hates Blogger, and I'm not going to change browser just for one site, especially when most sites are designed for IE in the first place (TO Carl - maybe not put this in because people be angry and like "NOOO USE FIREFIX BECAUSE I HAVE NO FRIENDS")(
tomr - you should use firefox, dammit! also, I have no friends. --carl
).
So, comic 618.

Right, the first thing about this comic is that it's a reference to something. And if you don't know what it's talking about, then don't even bother reading today's strip. We don't need your kind here. Hey, WHERE HAVE I HEARD THAT BEFORE? That's right folks, xkcd number 50!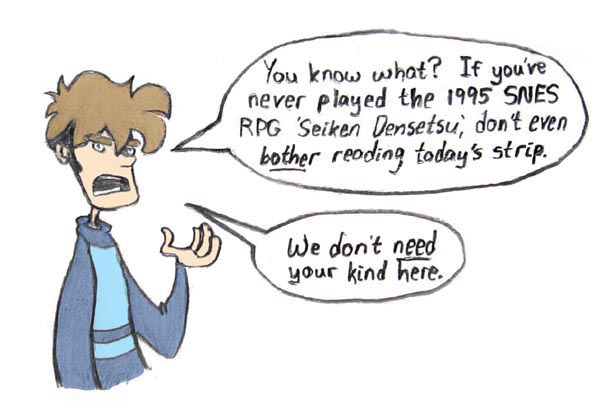 I've been seeing a lot of this shit in xkcd lately what with the whole pep rall thing then the Idiocracy and sheeple comics. Apparently Randall can't make up his mind about things.
I'm beginning to think Randall ghostwrites for, or will be writing for, Cracked. They use an xkcd comic in this article (last night when I read this it was uncredited, so I was thinking all "but didn't they do all that shit when people used THEIR articles without permission? Hypocrites! Hey, like xkcd!" and that's where this paragraph came from, but now they've put a little "thanks xkcd" thing in there, which makes it maybe a little better, but the idea is still floating about in my head), both sites have a bunch of sycophants following the links to whichever site the writers found and think they are better than everyone else, both make mountains out of molehills, and both are shit.

Anyway, back to the comic. There are two ways to make a reference to something: the right way, and the Family Guy way. The right way is to make it a throwaway line, and give it contet so that people who don't get the reference can laugh at the base joke, or at the very least not be confused. Then there's the Family Guy way: just slap it in there, and if someone doesn't get it then, well, they're a moron. Guess which way Randy did it?

The joke isn't up to much even if you do get the reference: Armageddon (or Deep Impact, which is supposedly the better film because it is more scientifically accurate, even though Armageddon is much more fun. The critics claim Deep Impact is better, but they also claim that Wild Hogs is shit and The Dark Knight is great, so what do they know. Of course, Randy had to choose Deep Impact to keep up his nerd cred.) Except it turns out that there was a friendly boy on it who just wanted to be friends! D'awwww!

Jesus fucking Christ Randall, why not just draw the fucking Teletubbies and have done with it.