i still don't know if i will care enough to make this a regular thing. But - as long as I'm here -
1) i thought the newest SMBC Theater, "
Ultimate Staring Contest
" was better than the first four - I was astounded at how much they made the live-action skit feel like a cartoon (it was the labels on everything that made me think this, then, spoiler alert, the exploding head). But I thought it was funny, in cartoony, loony-tunes sort of way.
2) i took a
picture
for you guys. Specifically, for Amanda. Amanda: I don't know why you want to rebel against me but consider this picture a plea for you to stick around.
update:
Hm, Dragon whatever hasn't sent me a post yet. Come on, Dragon whatever! I'm going to assume he is dead, and, rather than
rely on the kindness of strangers
, like last time, I'm just going to write the damn post myself. I'll add yours if you send it though.
if you are even alive.
so what do we have today.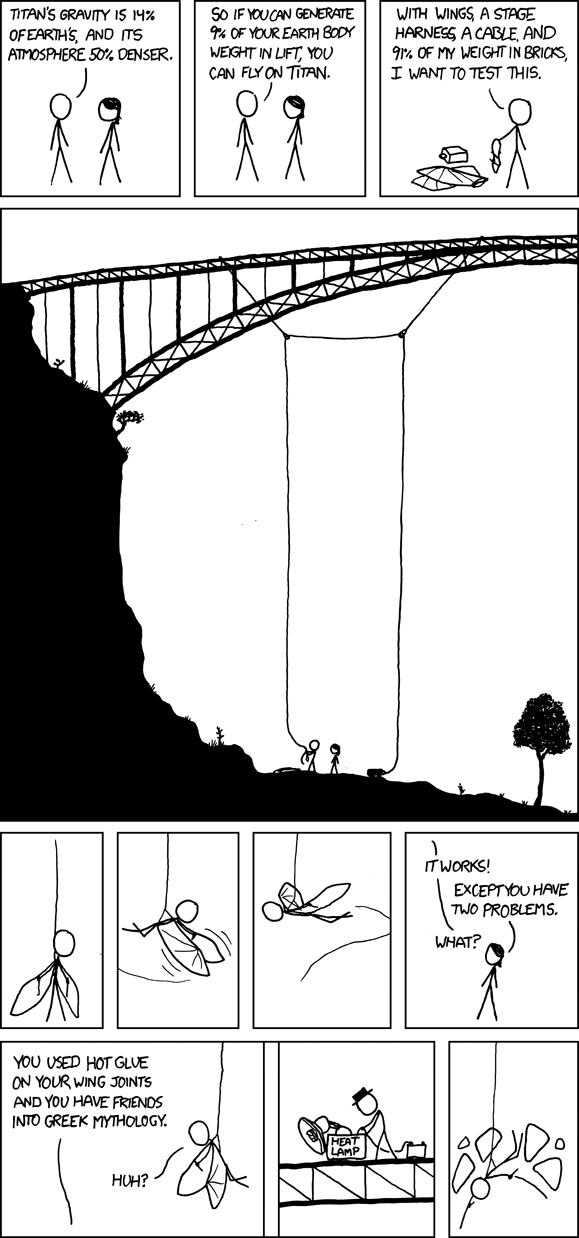 Those of you who read this blog regularly probably already reacted to this comic in the same way that I did: with the simple phrase, "
picto-blog!
" Click that link for a full explanation, but in short, we've noticed that sometimes, Randall Munroe has genuinely interesting ideas. But unfortunately, he does not run an Interesting Idea Blog, Illustrated With Pictures. He runs a webcomic, and so he takes these ideas and he jams jokes onto the ends of them, and it just ends up as a big old pile of
fail
.
And today is no exception. Testing out possible flight conditions on other planets/moons is awesome. I can see that easily. But like he so often does, the punchline is fucked up quite badly.
The joke, as I see it, is in the similarity between ancient greek guy Icarus trying to fly, and falling and failing, and Our Hero, trying to fly, and failing, and specifically, the physical humor of the modern day Icarus having his work (not to mention himself) come crashing down to earth. That the well read reader makes this connection in his head is the source of laughter, if such laughter occurs.
The issue is that this connection should come after you read the end of the comic. The punchline should not be in the third-to-last panel. For those people who did not get the reference to Icarus, the joke is merely in the "HEAT LAMP" shot, which is
also
not the last panel. The last panel that we get is the dude falling; which really is just a forgone conclusion after the two previous panels.
A much better - but still not best - variation would be
Way Walker's edit
that he links to below. I would still add one thing though - the Greek Mythology line (or some reference to Icarus, perhaps Randall's original phrasing was a bit awkward) should be added, by the off-panel woman, in the final frame. Then you get the joke at the end, and it makes sense. I also like the elegant concision of merging the top three panels with the wide white spaces of the big bridge shot.
Oh and come on: Icarus's problem was that he used
wax,
which melts at a fairly low temperature. Hot glue is hardly the same - sure, it can melt, but if you've ever used a hot glue gun and accidentally touched the hot part you know just
god damn fucking hot
it has to be, and how at that heat Our Hero has bigger problems than falling a few feet, like having his skin burn off. God knows how Mr. Hat is surviving operating what is essentially a small star. Mr. Hat appears to be less into greek mythology and more into being a giant douche.
Hypothetical question: If the main character had succeeded is flying, what would he have done with that power? Does he have a way to get to Titan and try it out there?
not related to anything update:
You know what I just remembered? Back when I started reading webcomics, I could list the ones I read, all four of them, in a nice little rhyming couplet. It was -
Dinosaur Comics and xkcd
Perry Bible Fellowship and Married to the Sea


isn't that INTERESTING?