There is an exciting new message waiting on the front page of our favorite webcomic today! Did you see it yet? If not, I'll replicate it below:
"EVER WANTED
AN XKCD TIE
?"
The answer, for me at least, is no. Well, perhaps I should clarify that - the technical answer is yes, I have ever wanted one, namely, a few years ago when xkcd was funny and it was something I would want to be attached to my neck. But
now,
no. No I do not want an xkcd tie. And if I did, I would want it to be clever or nerdy, the way the good xkcd comics - even now - are. I wouldn't want it to just be covered in low-res stick figures.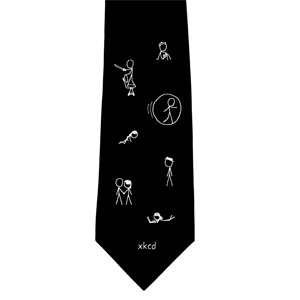 Seriously, they don't even have a normal Mr. Stick! Fuck, they don't even have xkcd's one character, Mr. Hat! They have Guy on Chair, Guy on Ground, Guy In Ball. They have two Girls Lyring On Their Stomachs, which i find only a little strange, and then there's also the word "xkcd" at the bottom. You know, the bottom is the part that ends up by your crotch. Why
not
have "xkcd" right there?
I made fun of the
last new shirt Randall brought us
, and said, among other things, that the only reason you would buy it is "to prove to other people that you are a fan of xkcd and a nerd." I think that's true here as well, since on its own the tie is fairly ugly. No humor, just kind of scattered stick figures. Not even any fun colors...this is just to show off that you like xkcd, nothing more at all. xkcd has gone from being a thing that people like because it is good to a think that people like because it is cool to like. And so the merchandise goes from being a good thing on its own to just being a thing that shows the world that you like xkcd.
But my favorite part is that it costs $32. what? Who the fuck wants to spend that much on a goddamn xkcd tie? $19 for a shirt is also pretty expensive but at least that covers your whole
chest,
and even the top of your arms! This is...this is not so much. Hell, it's twice as much as the
awesome
8-Bit ties
that Think Geek sells.
NO that's a lie, my favorite part is here:
Did you catch it? Look again!
you fucking misspelled "characters".
What a god damn idiot you are! Yesterday's comic you
misspelled "dysentery,"
the comic before that you got your
whole proof wrong
. I've said before that you should get an editor, and you didn't listen, and so I'll say it again - get a fucking editor. Now I know most webcomics don't have them, but most webcomics don't fuck up on a regular basis like you do.
anyway, have fun with your tie, randall. wear it to the webcomic awards show. no one else wants to buy it.