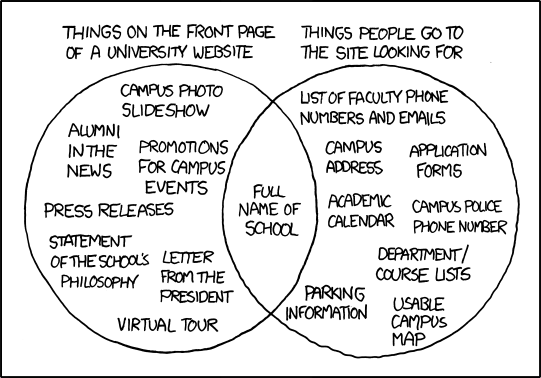 [alt: People go to the website because they can't wait for the next alumni magazine, right? What do you mean, you want a campus map? One of our students made one as a CS class project back in '01! You can click to zoom and everything!]
I think no word describes this comic better than "boring." Or, if you allow me three words, "Really, really boring." Not only is it a graph joke - the last refuge of the crappy comic author - but a Venn diagram comic, a place which I think deserves a special place in graph-comic hell. Not only because they take little to no thought, but also because they are boring to look at, especially the two-circles-and-one-overlapping-area ones. That's not to say that
all
Venn diagram comics are bad, just that
nearly
all of them are.
This is, of course, no exception. The joke is about the relative usefulness of college websites. What Randall is doing with this, having been out of school for several years, is beyond me. Actually, no, it's not - given that most visitors to the main page of a school's site are prospective students, I know exactly what he's doing: Appealing to high school students, as usual.
But in this case I'll ignore that, because there are bigger problem with this comic. First off, the joke. The punchline comes in the overlapping segment, as is usual with Venn Diagram jokes (for
example
.) I don't think anyone would disagree that the punchline to this comic is "the one thing that university websites have that people are actually looking for is the full name of the University." Now, step back a bit and read that again. I basically did a double take with this punchline where I read it, shrugged, thought it was dumb, and then had this realization that it is not merely "dumb," it is in fact
mind-blowingly shitty.
What college has so complicated a name that you need to get the entire thing written out for you? I mean I am sure there are a few where you don't know the exact phrase (like "ohio state university" vs "the ohio state university") but a) that happens in only a tiny fraction of colleges and b) it doesn't matter. If you all made a list of the 25 reasons you go to university websites, would this be on there? Of course not. So why is it on this list? Alas, humor is generally about using unusual means to get at the core truth of a topic, and in this case, there is no truth there. It's based on random stuff he made up that no one can relate to.
Now, it could be said that one might be able to relate to the general
concept
of not being able to find what one needs on a college website. That's a terrible joke for a few reasons (including the fact that colleges generally spend a lot of effort to make fancy, well designed sites, so this is just wrong, and the fact that if you want to mock crappy websites a venn diagram with an out-of-nowhere punchline is a crappy way to do it) but let's pretend he has a point. Are University websites poorly designed?
Of course, there's no clear answer to that, because they vary. So I just picked two
completely at random
and looked at whether it was hard to find the information Randall claims people are looking for but cannot find. The first randomly chosen school was Christopher Newport University, where Randall went to college (click for actual size):
You'll note that I've highlighted a few relevant links from - gasp! - the front page. Let's take another example though, say, i don't know, MIT, the place Randall wanted to go to college and likes to pretend he is currently attending:
Again, a few relevant links are highlighted.
Now it's true that there are some things Randall says people are looking for when they go to a University website, like campus police phone numbers, that are not on these sites. Well, to be accurate, they
are
on the sites, just not on the
front pages.
Now we get to another central problem here: Randall is comparing "what people want" with "what is on the front page." But there's no good reason for him to do that. People want any of a thousand things when they go to a University website, but you can't put them all on the front page. It would be impossible to find your way around and it would look like shit.
Luckily, most web designers have learned that you can created
other
web pages, and merely
link
to them from the front page. So if you have a long list of course names and numbers, rather than put all the names and all the numbers on the
front
page, you can have an "Academics" link that takes you there! Astounding. Likewise, a visitor to xkcd.com may be looking for a certain comic. Say (to take one actually at random this time), the one about
accidentally hearing the power rangers song whilst sexin' it up
. But HOLY FUCKING MOTHER OF GOD, it is not there on the front page of xkcd! Someone might be looking to purchase xkcd merchandise, yet to do so, they would have to
click to another page, oh my god.
This is what I would call "web design for complete idiots" and yet it seems to be confusing Randall Munroe for some reason.
It's almost like Colleges have an image of themselves they want to present - usually something along the lines of, "our students are happy, our faculty make amazing discoveries, and our alumni do great things." They're presenting a brand, basically, and - sweet jesus! - their websites reflect this. stop the mother fucking presses. Not everyone wants to see the campus police phone number prominently displayed on the main site? Well glory hallelujah. If only there were a simple 3 digit number that you could use in case of emergencies! Something that started with 9 and ended with 1 and had, I dunno, a 1 in the middle. No, that's silly, in an emergency most people will have time to visit exactly one website and won't have time to click on a single link, so yeah, the best option is to put it on the front page.
You've also got some dishonesty in the left-hand circle. "virtual tour" is totally something an applicant might want. Maybe not 100% of them, but some would. "Campus events" ? Why is that so bad? Does Randall really think no one wants to read about those? It certainly seems more likely than "Academic Calendar." or "parking information."
In short, there is nothing about this comic that isn't neuron-crushingly stupid and it's all in the service of an illogical, made up joke that just bored the loving crap out of me. GOOD JOB.
update:
It gets better - I looked up Christopher Newport University on Wikipedia and guess what? Apparently it isn't the tech/engineering school I thought it was. It is, in fact, a liberal arts college. So the next time Randall mocks the liberal arts - which includes a lot of math, keep in mind - think about the fact that he went to a liberal arts school.
=======================
Assorted and sundry other thoughts:
--I've finally, FINALLY, gotten around to reading
Dr. McNinja
. I really enjoy it! I just finished the second part of Dare To Resist Ninja Drugs and Ninja Violence. I don't tend to read comics that have long story arcs, because they tend to be boring (not their fault, it's really hard to tell a long story that has a lot of regular laugh points throughout the whole thing) but Dr. McNinja stays funny and entertaining. I hope it stays this good.
--That said, I don't like the
Dr. McNinja / Axe Cop
crossover that's going on now. The joy of Axe Cop is that it's all told through the crazy imagination of an actual six year old. Giving him characters made by adults doesn't work, and just feels super gimmicky (which it is). I can see why people would compare the two comics, because they do have a lot in common, and I can see why someone would even think of doing a crossover like this. But that doesn't mean it is a good idea.
--Penny Arcade TV finally reached the point of running out of new topics and doing
an episode of the show about the show itself
. Quite frankly, I'm impressed the made it as long as they did without resorting to that. And it's understandable that they'd do it; as Robert Khoo mentions, you just plain run out of things to make episodes about if you want them to be interesting and new. So I guess that means it's a good time for the first season to wrap up, and I'm intrigued by the idea of new folks coming on to make the next season. But that said, I think the
Two Player Productions
people did an absolutely fantastic job with this series and I really enjoyed watching it. I hope the next crew is as good.