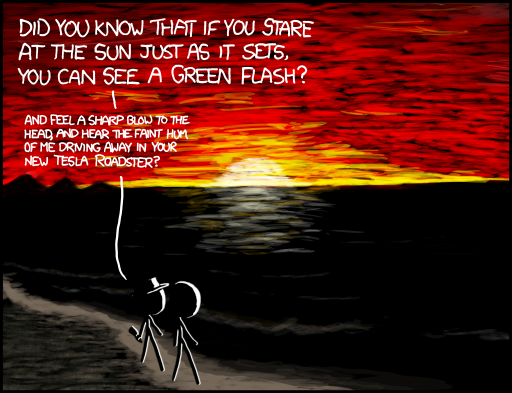 [alt: The exact cause of the phenomenon is unknown, but it's thought to be linked to atmospheric refraction and you getting a really cool car.]
Let's start with the obvious. This xkcd doesn't
quite
look like most others. Can you figure out how? Here, I'll give you another comic to compare it to: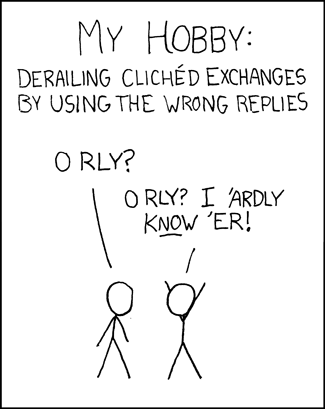 Yes, definitely something odd going on here.
Now, I've read the comments about this comic on my previous thread, and there's been a huge debate over whether this comic constitutes good art or not. And I think people on both sides of the argument have made it clear that they will kill me if I do not agree with their side. So, knowing that by wading into this debate, I open myself up to certain death, I have to say that I do like it.
It's not a timeless classic, of course, and some people who seem more knowledgeable about computer art than I say it isn't even that difficult. No matter. I still like it, and not just because it's better by far than the usual standard. It may not be realistic to have the ocean be totally dark right next to the sun, but whatever. When I ask for better art in xkcd I don't mean photorealistic art, I just mean art that helps the comedy, which this does (to an extent). Here, look at
the big version
.
Leaving the quality of joke aside for now, the point is that one character is trying to use the sunset to distract another. If we just had a crappy black ink on white page version of this comic - which I would sketch out if I had more time but I am sure you can imagine it in your mind - it wouldn't be as effective. Seeing some that much more closely approximates a real sunset makes your mind start to think about times that you have looked at sunsets, it makes it easier to imagine a person staring at this while a man in a hat steals his car. In other words, (and i haven't expected to say this before) the art does help support the story of the comic.
Of course, the story is lame. The story is "look at the sun while I steal your car," with a car that happens to be popular to nerds these days thrown in. That's it! It makes for quite the contrast with the art, though not in a nice way. Besides, Mr. Hat is supposed to be diabolical, not so stupid that he tells the dude exactly what he is scheming. Look at it! He's
actually saying
"stare at the sun for a while as I drive away in your car." Come on! I'd be happier with the no dialog version, as linked to above. Maybe some weapon clearly visible in Mr. Hat's hand, or something.
In the end, it's a rare step towards art and words that compliment each other in xkcd. I'd be setting myself up for disappointment if I expect more of this, but at least he isn't denigrating an entire field of study or showing people carefully plotting pregnancies.
----
DAYS TILL THE OVERCOMPENSATING BOOK COMES OUT: 4
DAYS SINCE THE LAST XKCD BLOG UPDATE: 61 (two full months!)
DAYS THE XKCD "ANTHROPOLOGIZE" MESSAGE LASTED ON XKCD: 2 (it's not even up on the original comic anymore! sucks to be an anthro major who reads the comic later!)