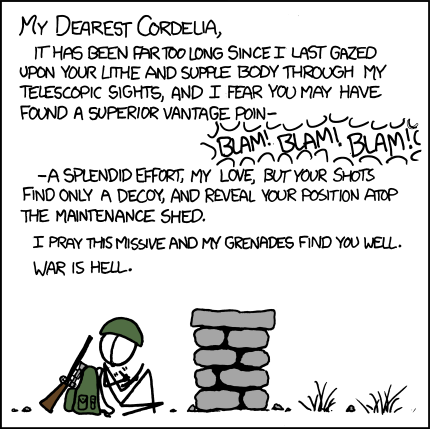 [alt: They offered to make me a green beret, but I liked my regular one. Although it gets kind of squashed under my helmet.]
This comic brings to mind many interesting, important questions. The first one is "what the fuck?"
For one thing, when is this comic taking place? I don't know much about wars and stuff but the guys helmet looks like how World War Two soldiers look, his rifle looks like something from the American Revolution, and his love/enemy's name "Cordelia" plus vocabulary like "i hope this missive finds you well" suggests something from the Civil War. The "maintenance shed" suggests a first person shooter. The stone wall I can't quite figure out, but it doesn't seem right with any of those (except the fps).
Second, what's he writing on? I know it may seem like a trivial question, but it matters. Is he writing a letter with ink on paper? In that case, why is he writing whatever comes out of his mind? In other words, if he were
actually
writing a letter to the woman he is trying to shoot, he wouldn't say "I fear you may have found a superior vantage poi--A splendid effort, my love..." because that doesn't make sense. The first half of the letter is negated by the second. So a normal sane human would
just start over
and not act like this was a conversation. How is the reader supposed to know
what
effort the writer is talking about? She's not reading it in real time. So that makes no fucking sense.
What if he's IMing her or something? It's hard to tell what he's writing on, though it looks like he's holding a pen. Nonetheless, it may be a stylus of some kind so let's think about this. When you write an IM to your friend Cordelia, do you start it with, "My Dearest Cordelia" ? No. you start it with "yo cord whuts up." THAT IS HOW YOU DO IT. Also, if the message is being sent digitally and instantly, it takes away the point of the last line - the mild amusement that the line induces comes from the image of him throwing a love letter tied to a grenade, ie, the two are actually thrown together and found at the same time. So that makes no fucking sense either.
Lastly, who the hell are these people? The alt-text tells us that the man on screen is our beloved Mr. Beret, a "character" who despite numerous appearances has only three consistent traits: 1, he is totally unpredictable based on previous actions, 2, he wears a beret (but not always, like here), 3, he makes xkcd forumites squeal with glee about something they call "existentialism" but which bears little to resemblance to
actual
existentialism. It's quite a mystery. I'd go so far as to say that it
makes no fucking sense.
So who is he? Does he love someone named Cordelia and just so happens to be at war with her? Does he hate her, so he is mocking her? Does he not know her at all? Or is he just insane? Who knows! If these characters had any sort of
consistency,
if we were given any context for their actions, it might be funny. But we're not. We will no doubt never hear of this again (i would love to be wrong on this). So we can't help but be confused.
Oh context. Done properly, this could have been a pointed commentary on the tragedy of war, the innocence of soldiers, the current debate over Don't Ask Don't Tell (and the broader role of love in the military), a metaphor for a troubled relationship...so many possibilities, none of them even attempted.
I'll end on a nice note: the use of color is done well here. Adds to the visual effect (makes it easier to imagine this scene as a real soldier) without being distracting or annoying. I'd love to see this happen more.
Wait, no, I'll end on an unhappy note: lots of people pointed this out but I still should say, this joke was much better
the first time
.
==========
update:
Some people have been yellin' at me in the comments on a few topics that I think are worth clarifying.
The first is, why does it matter when this is supposed to take place? I think it matters because the confused signals (19th century name, 20th century dress, etc) show that Randall hasn't really thought through what is going on in this comic. He hasn't pinned down the context. I think the other problems flow from that one: he didn't build this idea on a solid foundation, and the confusion about time is a part of that.
The second is about how he is writing to her. When I wrote that he was either IMing or sending a letter, I was, of course, being too limited. What I meant was that he is either writing to her in a format where he writes the entire message, sends it, and then she gets it all at once and reads it (e-mail, regular mail) or he is writing to her in a more conversational style, where he writes to her, she "communicates" back (not with words, but with bullets) and he then talks about the new thing she's "said" ("shot"). In any case, neither really makes sense.
Lastly, some people pointed out a much better joke that this could have been, and maybe it's even the joke he was trying to make. Basically, the better comic would have the image of a soldier writing a letter, and it would talk about how much he misses his darling Cordelia etc, etc, he just wants to see her again, etc, the usual stuff you'd expect. Then, as the comic progresses, you realize (perhaps the bullets give it away, perhaps this version would do something else) that he is writing
about
his enemy. That would be a reversal from what you are expecting in the first half. It might even be funny, maybe. As it is though, the comic starts with him saying that he's writing to his enemy ("through my telescopic sights")
before
the shooting starts, so it really makes no sense at all.
OK, i really should get started on the rage for comic 770 now...