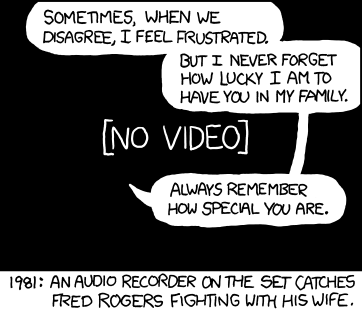 [Alt: Mr. Rogers projected an air of genuine, unwavering, almost saintly pure-hearted decency. But when you look deeper, at the person behind the image ... that's exactly what you find there, too. He's exactly what he appears to be.

]
Given that some people - including me - didn't even realize that this comic is meant to be making fun of the recent
news
of Mel Gibson's rather horrible fights with his own wife-like-friend, I think this is a comic that will not age well. Like a few other comics he's made (making fun of the Obama inauguration, the death of Gary Gygax, etc) this one offers no real context on its own (heck, even the date is not easy to find), so a reader in the future will not have any way of knowing what this is making fun of.
So let's look at this the way a viewer in the future might: He sees a comic devoid of art, just text, that shows Mr. Rogers arguing very politely with his wife. Actually, scratch that - it refers to "Fred Rogers," which a viewer will have to realize was Mr. Rogers' first name. I didn't know that, at least not off the top of my head. I mean, I figured it out, but not everyone is as brilliant as me.
Anyway, the joke is
powerfully
lame. The joke is saying this: "Mr. Rogers is so nice..." "HOW NICE IS HE??" "He is so nice...that even when he argues with his wife he does it in a nice manner!" Really. That's all there is. And then when you read the alt-text, there it is again!
Yes, it's meant to contrast with the Mel Gibson tape, but a) that only works for those people familiar with the tape, and b) it's a stupid contrast. Of course Mr. Rogers is different from Mr. Gibson! Mr. Rogers is a lovely children's television host, and Mr. Gibson is a crazy psycho racist. That's true no matter what.
The amusing contrast would be to compare one of these men's public persona to a fictional, contrasting one. So you'd have either Mel Gibson secretly being really friendly (unlikely, because we all know it's not true) or the secret dark side to Mr. Rogers. That last one is a funny idea, all the more so because it violently clashes with the image we all want to have of him. Of course, it's also the subject of several well known
urban legends
, so it wouldn't be very original.
In short: A lazy current events comic that says nothing new about its subject. xkcd has been having a very bad few weeks.
update:
I totally forgot! It's the latest in a long string of
comics for children
!
============
You'll also see that there is a link to the store at the top of the site. There's no new product that he's advertising, so one might suspect that he just wants to counteract falling sales. No matter. The point is that I went back to the store to check it out, and found, for the second time, a Breadpig product that annoys me. This is a good time to say that this has nothing to do with xkcd; breadpig is run by Alexis Ohanian, a very friendly and thoughtful dude who sent me my review copy of the xkcd book and also took some time to have a very long conversation with me when I objected to another breadpig product. (that was the spiderpig shirt, still for sale, which i object to because it is a joke that the Simpsons made and breadpig is jumping on to make their own product).
ANYWAY the point is, they are selling this
Animal Farm poster
and related t-shirt. And I know it's going to seem strange to ask for self-censorship in the context of a George Orwell book, but I think it's bad form to take a popular book, still under copyright, and excerpt parts of it for a product you sell. I know it's just a short quote, but it's an iconic one, and I can't help but feel that if I were to write a book and someone who liked it made something like this, I would be annoyed. The author of the work, or whoever controls his estate, should be the one who benefits from the effort put into writing it and coming up with classic lines like "some animals are more equal than others."
I don't know. It's not as clear cut at the spiderpig case, but I still think it's a bad trend. an ORWELLIAN one, at that.