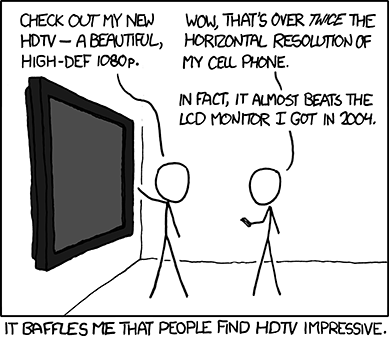 Am I missing something here, or is Randall really trying to assert that modern TVs aren't that special? I mean, I don't know what resolution cell phone Randall has but if it's not the size of a huge TV (and I suspect it's not) and he doesn't stick it way up near his eye to look at it (and I suspect he doesn't), then the TV is going to look better, no?
This comic kind of feels like a guy who is annoyed that he can't have The Nicest Thing and is trying to justify it by complaining that it's not so special (is that cognitive dissonance? or is it more like a sour grapes thing? or both?). As far as I can tell, HDTVs are
awesome
(assuming you are playing a video or game or broadcast designed for them) and while perhaps computers can get a similar display,
tvs are not computers.
That's like saying that your watch has a cool calculator in it and some guys tells you "well woo hoo, except my computer over here has a way better one!" I mean it may be true, but that's not the
point.
Until it's as easy to hook up a video game console to a laptop as it is to a television, I won't care about the comparison.
update:
I can't believe I forgot this! In response to the point from JWC that HDTVs are not just about resolution but about the whole
experience,
including, for example, sound quality etc, I realized this is the perfect place to embed one of my favorite youtube videos of all time! It is, in fact, the only David Lynch video I don't hate. I could go on and on about why there's clearly a difference between HDTV and phones, but we'd all be much happier if I just played the video.
-----------------
As is happening with increasing frequency, I am once more very behind on e-mails and comments on the blog. I feel terrible about it, and will try to catch up eventually but I may fail, especially as each day brings with it more and more mail to read.
I am still planning to announce contest
winners
finalists on Friday.