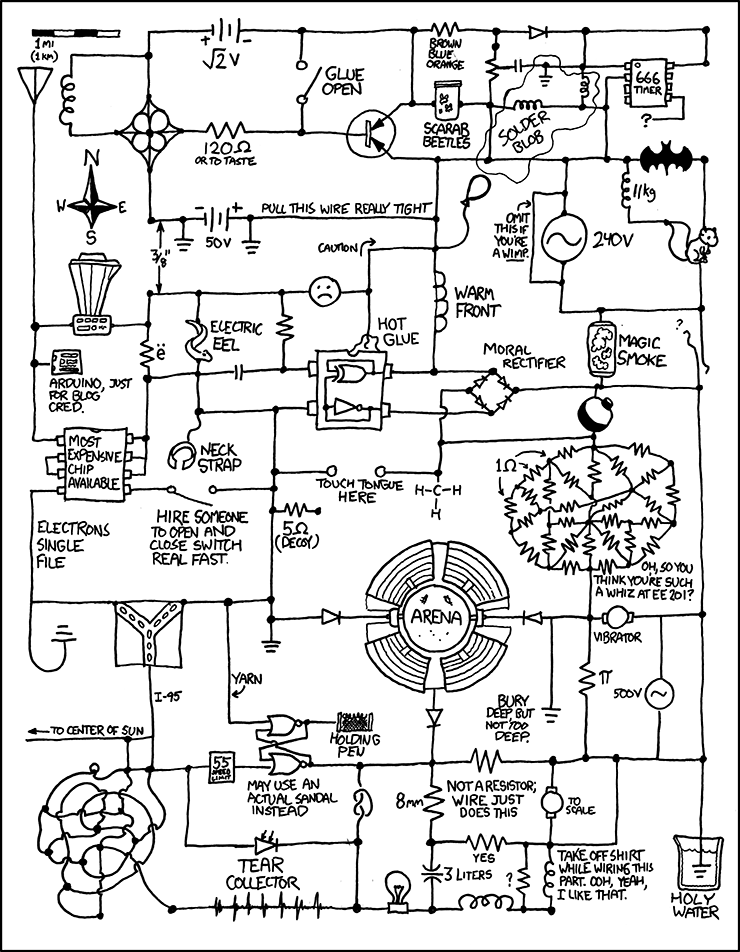 This comic, like
others
before
it, is basically throwing everything possible out there and seeing what sticks. Don't like some of the jokes? Read the other 15, maybe you will like those better. I didn't really like that many of the jokes, while I have never taken electrical engineering, they seem like the sorts of things that a half-clever student would doodle in his or her notebook while bored.
Note well! While I am not an electrical engineer, this
does not prevent me
from understanding many, if not all, of the jokes in this comic! For example: I can tell that "place tongue here" is funny because while it would complete the circuit, it would also electrocute you. HA! Also, "open and close door real fast" is a hilariously cumbersome way to simulate the switching of the circuit from off to on (if my terminology is wrong, fuck you, i still get the idea). Many jokes based on the broad category of "electronics work by black magic" variety.
There's not much else there; it's not a comic that tells a story or has a punchline, just a long series of little (supposedly amusing) doodles. I did note with some degree of pleasure that there was only a single self-referential meta joke, and that was contained within the alt-text. We are not always so
lucky
.
----------------------
Three other notes- I shall
vanish
over the course of this weekend and may not post till very late, perhaps as much as a full day late;
I will post the finalists in the contest on Friday April 30th (i have still not worked on it yet but by promising that I will do this i make it far more likely that I will),
I know this is real late but if you aren't reading
Axe Cop
yet, then why the crap not? It is wonderful, unless you have no soul. Do you?