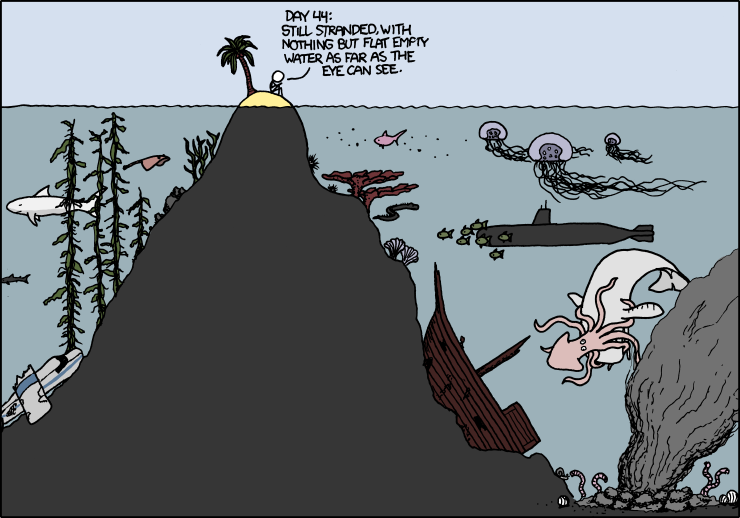 This should be short, it's a simple comic and I'm way behind on everything.
The point of this comic seems to be rather poorly thought out - the idea is that he thinks the ocean's all boring and empty but really it's full of pirate ships, squids fighting whales, submarines at 20 feet underwater, and jellyfish, etc. I guess it's try to say "guys! cool stuff is all around you!" which I find a little patronizing and annoying. It also reminds me a bit of the point of the
There's Treasure Everywhere
calvin and hobbes. [that was originally just a link to wikipedia but a kindly anon forwarded me the link to the actual comic]
The reason I think it's fundamentally a confused message - and i recognize that this is a case of me thinking too much about the comic , but hey, it's what I do - is that none of this actually helps the dude on the island. He isn't going to go exploring for ruined ships or dangerous huge animals. He wants normal sized fish and people to rescue him. In other words, I imagine Randall sort of talking down to this character and saying "don't you realize how much awesome stuff is around you!?" but of course, the response is, "that's lovely to think about for you non-trapped people, but I'm stuck on a shitty island. either rescue me or shut the hell up." And what do you say to that? What's the message of the comic now?
I also want to note that I am really sick of hearing about how damn much Randall loves Minard's
map
of Napoleon's Forces moving around Europe. I understand that it's a cool map, i know that Randall's
hero
likes it, but why the hell does he keep bring it up to us? I think this is the 3rd or 4th time.
also: guys, it's comic 731! Do you remember what was exactly
100 comics ago
??