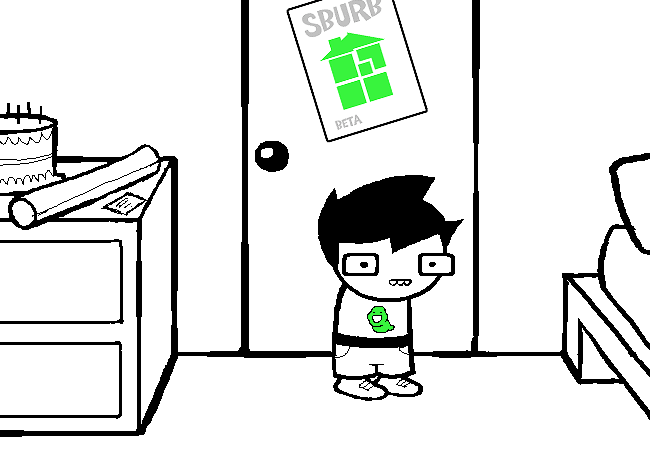 For those of you who read MSPaint Adventures, you probably saw the blog post (is there a way to link to specific posts on the MSPA blog?) reminding you that today is the 1 year anniversary of the latest adventure, Homestuck, starting. Given that 1 year was the exact length of the
previous adventure
, it seems an appropriate time to muse on the story.
The main feeling I get when I read MSPA is
disappointment.
I started hearing about Problem Sleuth when it was finishing up, and rather than try to catch up, I figured I'd wait till it was done and read it all then (which I did, eventually). Then, when I learned there was a new story starting, I figured,
awesome! I can read this one as it unfolds, and know what everyone else is talking about!
People tend to use the word "epic" when describing PS, and it's hard to disagree with that. I can't say I loved the story, but it had a crazy energy and an undeniably vast scope, which
intrigued
me more than I can say it amused me. I certainly didn't regret reading it. Most importantly, it didn't take itself too seriously. You knew it was absurd, it knew it was absurd, but it said
screw that, let's be wacky, come along for the ride.
That hasn't been the case here. The story in Homestuck has exploded - not only do we have the four different series of intertwining events surrounding John, Rose, Dave, and Jade, but we have the story of the Future Vagabonds, the Trolls interacting with everyone, some characters from the future now, skips back and forth in time, lots of new worlds - I just find it all overwhelming.
But as I alluded to before, I think the problem is that the story is taking itself a bit too seriously, a trap which PS didn't fall into. PS just fell apart into a fun ball of nonsense, but HS is taking its sweet time - does the story even feel close to a climax? If this were a five act play, I'd say we are maybe in the beginning or middle of act 3. And it's been a year! Andrew Hussie put some stats up in that blog post, and apparently PS was 1621 pages long - a record HS has already beat (1667 as of right now). But it's even worse: HS had tons of animations, tons more images, and tons, tons more words (PS: 45,000 words. HS as of now: 85,000. thanks a lot, fucking pesterlogs!).
To read HS in, in short, a greater investment of your time than PS was, and that alone was considerable (goodbye, four days in July that i will never get back!). Has it been worth it? I don't think so. A few panels were genuinely funny (usually when he suddenly reverts back to hs older, cruder drawings for comedic effect) but they were few and far between. For people who do still enjoy reading it, I'd ask you: Do you think it is
funny,
or do you like it for some other reason?
I'll take a break here to say something nice: The art has gotten way hecks of better, and a
lot
of the
animations
are downright
cinematic
in the best possible way. I can certainly appreciate the amount of work this effort is taking; I'm just skeptical that it's worth the time for the creator or for the reader.
Anyway, I'm curious for other opinions. What do you guys think of the story so far?