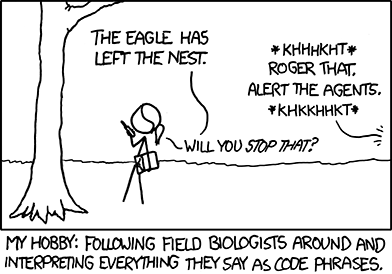 short post today as I am seriously going to try to catch up on all e-mails, comments, and that nearly forgotten contest I started.
This is a comic that asks you not to think too hard. As Sepia put it in a
comment
, the phrase used in this comic is really a) not all that similar to things biologists would actually say, and b) if it
is
ever said by biologists, is probably the only phrase for which this "hobby" would make any sense. Most of the time, you could just used the tried and true method of replacing the caption of any "my hobby" comic with "My Hobby: Being Annoying" and it would make just as much sense, or more.
I think that this actually points to a really big change xkcd has made over the years: This comic is only funny if you look at the concept within the very narrow field of "the eagle has left the nest" but few other phrases, in other words, the phrase used in the comic is one of the few points that lie in the intersection between "phrases biologists use" and "phrases cliched secret agents use." If there were more points in that intersection, and I would love to hear suggestions, the comic would be better. Because you would read the one example, laugh, maybe, and then think of other examples, and laugh more. But there
are
no other examples!
Compare this to one of the old My Hobby comics: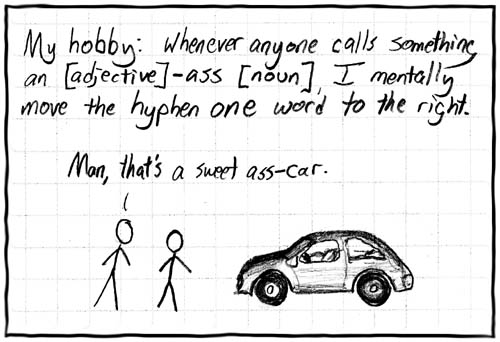 The example in this comic, "sweet ass-car" is actually not great. But the great thing about the comic as a whole is that this actually
is funny for most examples.
"Big-ass douchebag," "lame-ass umbrella," "dumb-ass job" etc. You keep thinking of examples - when people keep saying the right phrases - and it keeps being funny.
But today's comic does not. There will be no people in biology class laughing inadvertently as they realize that whatever sentence was just said could double as secret agent code.
I say i am going to write a short post but i am
always lying.