woah hey, it's carl! i'm back to post this super special book review. then: aloria!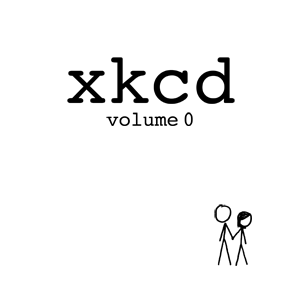 First off, I want to start this by expressing deep and sincere thanks to Alexis
Ohanian
at
Breadpig
for sending me a copy of the
xkcd
book. The quick
backstory
is this: I wanted to do a review of the book; I didn't want to pay for it; I wanted free things. So on a whim I e-mailed Alexis (who, in addition to being a
founder
of
reddit
and
breadpig
, is the guy interviewing Randall in the
Reddit

Interview
). He said yes, and I was excited, but also skeptical that it would actually work out (I mean, getting my mailing address is probably a good way to play a wonderful prank on me). So that's why I didn't mention it too much on the blog - I wanted it in my hands first.
Doubleplus
thanks to Alexis because not only did he send me a copy of the book, he
sent me a second copy
when I told him -truthfully, don't worry- that the first hadn't arrived.
My first feeling, after reading through the book, was genuine surprise. Not that it was particularly good or particularly bad - it isn't either. Just that the things that are bad are not the things I was expecting to be bad, and the things that are good are not the things I was expecting to like.
So let's talk about the details. The book is about 112 pages long (the page numbers, as discussed below, are mostly useless). Some larger comics (442, 556, 475) are split up on multiple pages; some pages get multiple smaller comics (page "10001," for example, has four one-panel comics - 179, 191, 210, and 200, in that order). Of course, some pages fit exactly one comic. This is just a
necessary
effect of how
xkcd
uses vastly differing sizes for its comics, but the result is a little jarring - the images and
text
on page, say, "page 111" are huge while the comics on "page 12000" have tiny little words and pictures. Stick figures that look about the same when you read
xkcd
on screen grow and shrink as you read on paper.
Yes, there are annotations and little drawings and stories included in the book, but not many. Perhaps 1/3 of the pages have them drawn in (in bright red). A few pissed me off (usually of the "if you don't get this joke, here is what it is referencing" or "lots of people love this comic" variety), but a few were interesting. Particularly those where he mentions that he made an error in the original comic and had to go back and change it - not something he usually admits. What I was not expecting was the codes. There are lots of different codes all over the place - series of letters, braille, dancing stick figures, numbers, puzzle poems, etc. The page numbers, which appear to be in ternary, are also apparently part of the code. While that might be fun for some readers, for most it will just make the book unpaginated for all intents and purposes. I personally don't care about the codes - to me, they are just annoying distractions that I won't be able to or care to solve. I guess I'll just look up the answers online sometime and see how clever they are.
That said, I am generally pleased with which comics Randall chose to put in the book. Only one of my "most hated" comics - 513 - made it to the book, but a few that I really like - 284, 285, 290, 487, to choose some at random - are there as well. Some choices are inexplicable - for example, Journal 1 and 2 are there [next to each other, unlike online] but none of the rest of that story. Why have the beginning but not the rest?
Now here is where we are going to get to one of the stranger aspects of the book, something I think is a fault, and I can't think of why they did this: Though Randall is careful to mention in the book's description that every
comic's
alt-text is included ("discreetly," though i don't see why that is necessary), neither the title nor the date of the comics are included. The Penny Arcade and A Softer World parodies aren't labeled as such, so if you don't know those comics, you are just going to be confused. And then there are some -
ok
actually we're going to do this differently.
Read
this comic
. I've deliberately taken the title, date, and alt-text away. Now, if you happen to remember that key context, this next question isn't for you. But otherwise: did you think it was funny? Why? Just because it was a nerd playing a nerdy game?
The point I'm getting at is that this comic came out right after Gary
Gygax
died, and that's him in the comic (the alt-text is "RIP, Gary"). But without that information - which is not present in the book - how is a reader supposed to know that? (The same problem exists, to a lesser extent, with
comic 500
. did you get it?)
update: the alt-text for the Gygax comic is in fact included, as are all the alt-texts. But even with that, the context is still hard to get.
That is enough criticism for now, I think. The book is nicely printed, with the few comics that are in color looking pretty good. The "copyright" page is nice, though the introduction won't tell you much new beyond the "How I got Started Writing
XKCD
" stuff. And I do really like the back cover.
In short, it's a book that an
xkcd
fan - or even someone who used to be a fan - will like, but if you are expecting much more than what you can find online, you'll be disappointed.
(update: Hey, look which book review is on
twitter
.
if you said "this one" well yeah, that was obvious
)
============
update: OH, and today's
panel 5 utahraptor
? I totally get your secret
hidden reference
. totally! but thank you for not using your obscure reference as a punchline, only as a throwaway line that people can ignore with no problems. thank you utahraptor, for all that you do.