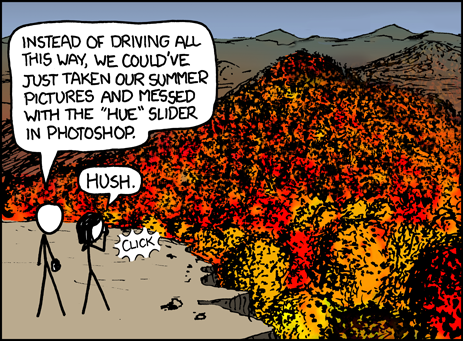 So here boy and girl stick have arrived at the fires of Mount Doom in order to destroy the One Camera...
Er. So here boy and girl stick have filled the Grand Canyon with leaves in order to have a leaf pile-jumping session of of epic proportions...
Alright, I know it's considered impertinent to criticize the art in xkcd, and I suppose it's nice that Randall is putting in a little effort here. However, it took me more than a few moments to figure out what that huge orange blob was. Even looking at it now, knowing what it is, it still looks more like a giant pile of leaves to me than a mountainside covered with trees.
Sadly, the comic is nothing as interesting as even a shoehorned LotR reference. Stick girl wants to take pictures of pretty fall leaves; Stick boy, for some reason, feels compelled to ruin the moment by pointing out you could get the same effect in Photoshop.
So, who pissed in this guy's Cheerios? This basically falls into xkcd's standard pitfall of "Randall dreams up random shit no one in real life would ever say, hijinks ensue." Really, nobody would say this, even if just for the fact that the damned hue slider in photoshop doesn't work that way.
He also makes the classic blunder of putting the only thing approaching a joke in the alt-text. Seriously! Have the girl say that snappy little comeback IN the strip, instead of "hush." Then you can have the alt be "BITCH, oh no you didn't!" and then maybe in another panel they can do a dance-off, and he can pimp-slap her, and then she can fall off the cliff and he can scream "YOU GOT SERVED" and Kanye can be like "imma let you finish" and maybe some owls ooh they're cute and also...