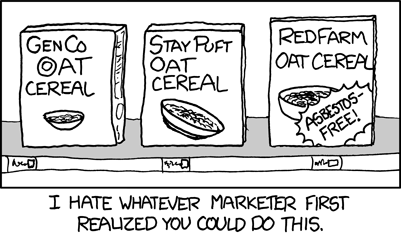 FIRST OF ALL, which marketers are doing this? Sure, you'll see some foods that clearly should not have fat in them being marketed as fat-free, but that's because some foods
do
have fat. I recognize that using asbestos is clearly just an exaggeration, but I don't quite know what he's making fun of. This isn't some massive sudden trend in marketing, and to the extent that products say they are ___-free, they are usually things that one could reasonably expect to be there, some of the time.
The punchline is also poorly executed, and here's how you know: What is the punchline? Is it "asbestos-free"? If so, the text at the bottom is needless, and given that it has no humor content of its own. It just felt like wanted a caption for the sake of having a caption, and couldn't think of anything good. Maybe he should have combined it with the alt-text joke: Have one of the boxes labeled "Asbestos Free!" one labeled "Swine Flu Free!" and one with, I dunno, "Rat Brain Free!" and then the caption could be something about how it's just so hard to pick cereals these days, they all have so many advantages.
The fact that the cereal names themselves are as bland as their contents just shows how far we've come since Randall made up
funny cereal name parodies
[incidentally, of those six, I like the three on the right, because they are actually clever puns on existing cereals]. That is, I assume there are no jokes in the names - if I'm missing something do let me know.
OH HEY then there's another problem: SMBC did this joke
way better. Two years ago.
Here's
the link
. Notice how it's better? How it uses the far funnier "skin from a dead hobo's mouth"? Yeah. SMBC is way better, in general. Why does Zach Weiner like xkcd so much? This is one of those eternal puzzles.
----------------
ALRIGHT. I'm taking off regular blogging for a week. Person #1, the editor of the xkcdsucks book, will take two days. I've instructed him to post the pdf of the book for you all to enjoy (It's been posted around before, but let's get it up in a post). Then Kirk will do the last day. Fun times! I will still be around, and I hope to write a post about all the new (non-book) stuff in the xkcd store.