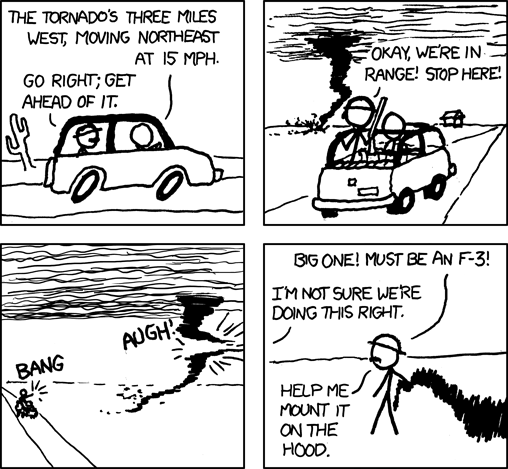 Today is one of those mostly-positive-things-to-say comics. Because unlike most days, where Randall takes a dumb idea, fucks up the presentation beyond making sense, and vomits it up to his website, today Randall took a
good
idea, fucked it up, and vomited it to his site.
It is - or should be - a simple visual gag. You get the title "Tornado Hunters," you assume it means following them around with a video camera, you see them driving, you see them shooting, the end. Simple pun, executed (pun intended? i don't even know) visually, the end. Hell, it could appear the New Yorker.
Look at the third panel - ignore the crappier-than-usual art, and the sound effects. It's a funny image. It's all the talking before hand and the atrociously unneeded 4th panel (and the just terribly out of place, unrealistic line "I'm not sure we're doing this right") that ruins it.
SO - closer than usual today randall. Just - get an editor to tell you these things, and the two of you will make a great webcomic team.
OH ALSO one other problem - the alt text, "The Fujita Scale was replaced by the Enhanced Fujita Scale in 2007, but I think 'EF-5' sounds stupid, so I vote we just use the new measurements for assigning numbers but still call them 'F-whatever'." WHAT THE HELL. Way to just try to sound smart. I don't care if you don't
really
know about the F scale, you just read it on wikipedia, you end up just sounding like you are trying to show off by having opinions on stuff most people haven't heard of. And you KNOW most people haven't heard of it. I don't care if you pretend your audience is nerds, only a small number of nerds follow tornado classification shit. So shut up.