[golly, even Rob wants to get in on the anti-631 fun!]

ROB
IS
BACK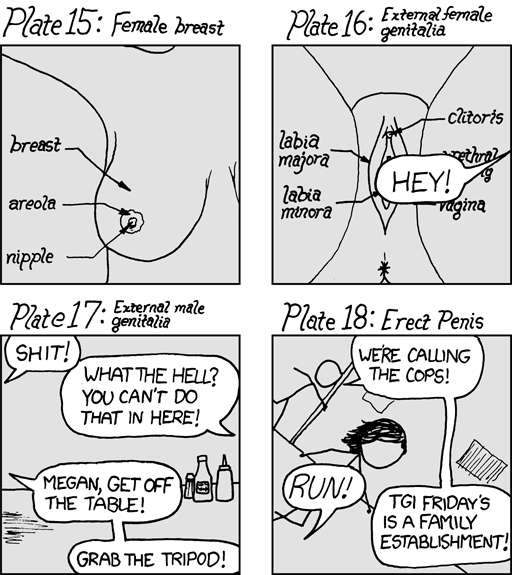 Am I the only one disappointed that Randy didn't show some balls and draw some balls? Come on, man. I WANT TO SEE YOUR CARTOON SCROTUM.
Seriously though. This was a rotten piece of shit! I am normally at least vaguely aware of what the joke is supposed to be. But this? What is this? What the fuck is this?
I went to the forums in the hopes someone would enlighten me but all I found was
this
:
I do believe we have here a return to form for Randall. I wonder how the haters will try to justify their feelings now.
"I got fired for looking at this at work today, I hope you're happy!"
"How DARE you distribute this filth!"
"You drew the labia minora/areola/something wrong, you hack!" (Labia is in spellcheck but not minora or areola? Huh.)
"Wheres the tripod, huh?"
... Okay, I'll stop now.

And who among those that have been under age 15 in the last 5 years hasn't visited Wikipedia for their jollies? It's this generations National Geographic!
YOU CAN'T MAKE THIS SHIT UP. This fellow not only thinks it's a return to form, but he is convinced that it is so brilliant there is nothing left for the haters to say, except for minor nitpicks! (He also thinks it's normal to go to Wikipedia for porn, but maybe kids these days really do that--he appears to be the expert. I was 15 a long time ago, before Wikipedia was a twinkle in your father's eye, maybe.)
So, for the poster linked: there is a lot to find wrong with the comic! Most obviously is WHERE IS THE DANG JOKE because seriously, I can't find it. Also there is the fact that, oh, Randy is drawing detailed female genitalia and breasts (though in fairness, a breast is pretty simple so detailed isn't that impressive), without warning, for no reason at all. Because Randy, you see, is obsessed with sex. Sex sex sex. He just can't get
enough
any, at all.
What really interests me, though, is the Megan reference. See, I'm pretty sure Randy is trolling us here. He's been increasingly mentioning her out of her usual context of creepy romances, and in creepy sex-stalking, and I think that's deliberate. He knows. He wants us to freak out, and he knows it'll blow up each time.
The thing is, this means he loses. He's counter-trolling, sure, but that means he's letting us get to him--and in the wrong way. He wants us to freak out. He's banking on his fanboys loving him forever, and it's going to cost him. He's not good at this game. He's got thin skin. He cares! He really cares! It's hilarious!
(I did not promise it would be a good post.)