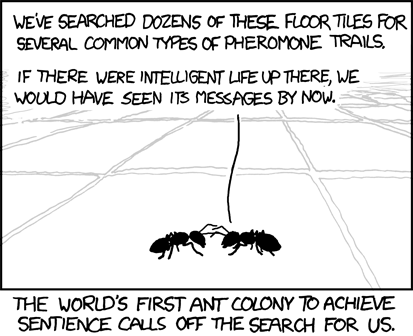 Another short post today, because later tonight I will post the exciting post-book-party report that Aloria just sent me! I haven't even read it yet. From what I've heard on IRC, some seriously awesome stuff happened. But who knows!
Anyway, ants. Ants not knowing about humans as analogy for humans not knowing about aliens. Basically all I think about it is that the idea is super old, tons of people have suggested that they would be using frequencies far beyond the range in which we are searching, or they are physically much larger or smaller than us and so their messages pass us by unnoticed, etc. There's also the story cited in
this forum post
, which says "It's reminiscent of an Arthur C. Clarke story in which astronomers spot some stars that are just jumping around for no reason. They're forced to conclude that there is intelligent life out there--and that it's much, much more advanced than us."
There's also the old line (which
might be from Douglass Adams? Or Terry Pratchett?
is apparently from Calvin and Hobbes) that the surest sign that other life in the universe is intelligent is that it has not tried to contact us.
That's all. Old idea, perhaps cleverly stated, but then again, given the response you could give the ants ("what about all those carefully placed traps, evenly spaced, and right by where all your entrances to the kitchen are?") maybe not.