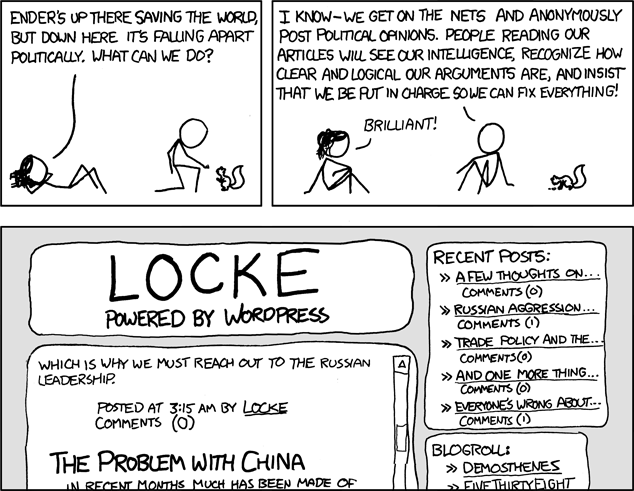 Hey hey look, it's a comic just for people who read the book
Ender's Game!
If you didn't read it, fuck off. This comic isn't for you. But you should read it, it's good. As I'm sure you know.
Randall doesn't make these sorts of comics that often, to be fair, but there have
been
those
exceptions
. They're like any other reference comic, I suppose, but it's a dangerous trap to fall into. They significantly cut down on the percentage of your audience who will be entertained. And before you all go "Oh come ON everyone has read ender's game" or "well anyone who is an xkcd fan has read it" let me just assure you that that is completely not true. Plenty of total nerds haven't read it. OK? I know nerds who haven't even seen
Star Wars.
Crazy, I know, but it's true.
Anyway, I have read
Ender's Game,
so luckily I'm in a good position to complain about this comic.
The joke, as far as I can tell, is that in real life, Peter's plan to get famous would fail and no one would read his blog. Ok. It took me a while though - the way it's set up, it looks like the joke is just that the plan he has is basically the same as blogging, and seeing the wordpress page with all his posts is sort of the visual punchline. But that's not funny; it's just saying "HEY WHAT PETER 'N' VALENTINE ARE DOING IS BASICALLY BLOGGING" which doesn't make Randall funny so much as make Orson Scott Card rather prescient.
OK but the joke is that no one would care. That's fine, I guess, but the whole point of that plot of the book is that they are very very good writers, not just the usual idiots out there spouting off about 9/11 truthism and Obama birthism and all the other completely hilaious conspiracy theories we are seeing these days. Is it still unlikely that Peter and Valentine's plan would work? Sure. But it's unlikely that a young kid would go to a place called Battle School, beat all the other kids in the combat room, and go on to (SPOILER ALERT) do all that stuff he does. It's a
book.
More specifically, it's a
science fiction book.
It's not supposed to be what would happen in all of our ordinary lives. Furthermore, I'd like to quote Kirk's very good comment on a related matter:
Anyway, the adding of fivethirtyeight in the corner of the screen sorta defeats the observation Randall is making. Fivethirtyeight is a political blog that was so popular that it pushed its creator into mainstream popularity (he is a constant commenter on MSNBC, along with other media appearances). The point learned from fivethirtyeight is that if you are able to provide a unique product, you will gain notoriety even amongst a sea of competitors.
And the fact that I am quoting Kirk means that he too is gaining fame for pointing out a smart thing.
Anyway, the only other thing I have to say is that in light of the fact that Randall is The God Of Reddit, that Reddit is publishing his
book
, and the ongoing "
ask randall the questions that get the most reddit votes
" thread, the alt-text - "Dear Peter Wiggin: This letter is to inform you that you have received enough upvotes on your reddit comments to become president of the world..." - strikes me as a little self-serving and a lot fan-servicey.
===========
By the way, if you
haven't
gone through that reddit thread to make sure Randall actually gets hard questions in his interview, (as opposed to say, the current #3 question "Who is the most famous person who is a fan of xkcd?"), well what the fuck are you waiting for, man, go do it.