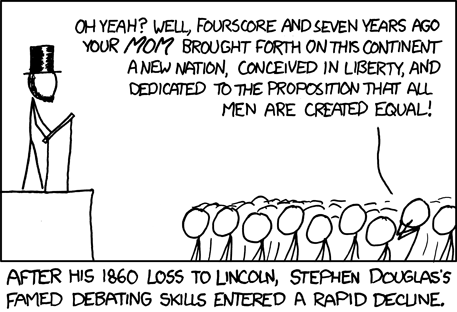 Hey hey, it's a your mom joke! God, I haven't seen one of these guys in....years? Has it really been
years?
Man, this is making me nostalgic. Crack open a can of your-mom jokes, toss in some that's-what-she-saids, maybe pass around a bowl of "....-in-bed!"s. Have us a real good middle-school night.
And it's not even a
good
your-mom joke. The first thing that would come to
my
mind for a Lincoln's Mom comic would be "A house divided against itself cannot stand? More like...YOUR MOM cannot stand!" But this is just...dumb.
I know that some people will say that's the point, that's why he says Douglas's skills "entered a rapid decline." But that's a pretty cheap trick: Just because you say your joke is lame doesn't make the joke any less lame.
Also: referencing a really good webcomic, namely
Kate Beaton's
Hark: A Vagrant
(known to all as simply "Kate Beaton" or "Kate Beaton's History Comics") doesn't make you seem any more cool. Ms. Beaton, for her part, made this twitter in response to the mention, she sounds
real excited
pretty annoyed about the whole thing.
Oh and fun fact randall, I know you said your joke is innaccurate but I would remiss if I did not point out that indeed its
premise
is also inaccurate; the Lincoln-Douglas debates were held in
1858
and were for Illinois's Senate election, an election which Douglas won, not lost. JUST SAYIN.
==============
Heads up: Next week, as a reward for putting together the xkcdsucks book, Person #1 will be guest posting on Monday and Wednesday, and then Kirk will be doing it on Friday. I will leave it to P#1 to post a copy of the xkcdsucks book so you all can read it.