is it time to write about xkcd
again?
man, these deadlines happen to fast. luckily i have a guest person for tomorrow, I am pretty sure.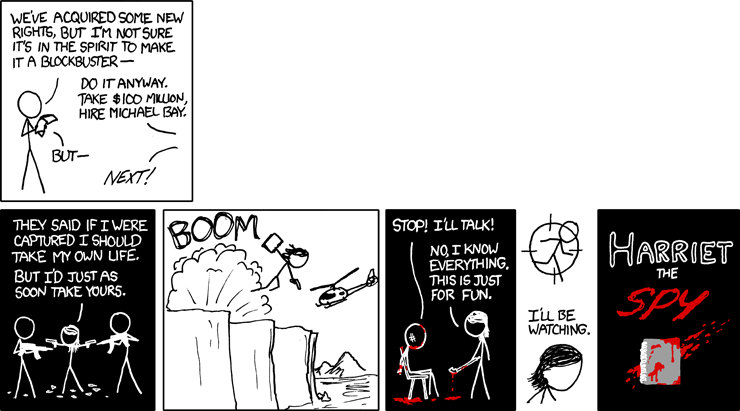 Ugh, that's some gross layout you've got there. We'll get to that.
First, to content: Ha, guys, people are making movies of kids' books, and they usually suck! What I love about xkcd is that Randall (or am I supposed to call him Mr. Munroe now?) always manages to make fun of things that are totally true and obvious, yet which
no one is making jokes about already!
For example, Penny Arcade. People say those guys are funny, but
they've
never made comics about action-packed versions of childhood staples which only barely cling to their source material!
Not
once
! Thanks to Maleloth for pointing that penny arcade could never do this.
Or heck, here's another example: What xkcd is pointing out here is that crappy hollywood blockbuster directors are basically taking elements of your childhood and violently assaulting them, which is, again, not something anyone's
ever commented on
.
You'd also think that with such obvious wit and insight, xkcd might have noticed this whole "
innocent children's book is turned into violent movie
" craze and comment on it, but NO! again! NO!
this joke is refreshingly orignal!


Harriet the Spy is not only
totally
a girls' book, but was already
made into a movie
. If the joke is supposed to be taking an actual phenomenon (books --> movies) and exaggerate it (as per usual comedy practice) he should have chosen something that is actually, you know, exaggerated. As in, something that would never in 10,000 years be made into a movie. Or at least something that is unlikely to be. Not something that already is a movie. That just confuses things.
Now for the layout. Gah, this is terrible. Way below his usual standards. Look at it - we have just shitloads of white space there. Serving no purpose, making it feel all unbalanced and weird. Makes it look like the page is failing to load.
so at the very, very least, center that top panel:
So much better. But still not great - you still have a lot of white space. It also gives equal emphasis to the "title" panel, the one at the end, as it does to the scenes from the movie. I think that last panel should get more emphasis, have a heavier finality to it, so it feels a little more like the end of a movie trailer (or, alternatively, looks more like a movie poster, depending on what you think he should be emulating). So I threw this together - sorry for the blur on the panels I had to enlarge, but that's how it goes. Just rough, proportions aren't quite right or anything, just to give you an idea of what I mean:
EH? isn't it better? Of course it is.
Randall: If you let me be your editor I swear I will be nice about it, and just work to make xkcd a better comic for everyone. If not me,
please
hire someone to edit these, you need it.