Fun times at xkcdsucks world headquarters: Today's guest poster, whom I will call "Captain Tacos" because he did not specify a pseudonym, sent me not one but two reviews of this comic. They can easily be called the "normal" review and the "wacky" review. I've pasted the normal one below; to read the wacky one click
here
.
I'm more than happy to skip writing about this particular comic; I thought it was beyond bland and utterly forgettable. So instead I will encourage you to give it up for CAPTAIN TACOS: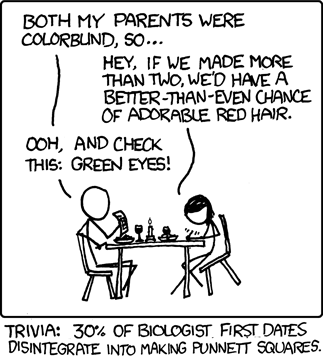 " (For shorter form, read only first line.)
... .... ... meh.
And let me explain, by 'meh' I do not mean this is a mediocre comic that is neither funny nor interesting. By 'meh' I mean this is a terrible comic that is neither funny nor interesting. My roommate and I had a long argument about this. He notes that this comic has no major flaws; his criticisms are that "made more than two" is awkward and should be "had more than two" and that the title, "Date" slightly gives away the joke. The premise is contrived and doesn't lead anywhere, Combined with the lackluster punchline, he calls this a mediocre comic. I disagree; I argue that the absence of humor constitutes a huge, crippling, if you will, fatal flaw. When did 'not good, but with the absence of vaginas,' become mediocre. Probably last week, when there was a
giant vagina in the comic
! Perhaps this was the point of that comic, to so lower the bar that all future comics would be judged more kindly because they were not so blatantly pornographic. (This principle was at work in
Carl's analysis of 632
)
Often, an XKCD strip will have a decent idea with the potential for some LOLs, and then Randall will fuck it up. Our service will be to explain how he fucked up, and make fun of him for it, and occasionally fix it. But here, there's nothing to fix, and nothing really to make fun of. Its the carbon ash of a comic: it has no potential energy for anything, but is in a completely stable, useless form. But each strip starts with the promise of funny. The very fact that a strip was made and proffered to us, the public, implies that there is some good in it. Presumably if it started with the promise of carbon ash, it would not be proffered. But, as has been noted elsewhere in this blog, the goal of a webcomic is comedy; when a strip does not meet that goal it has failed. Failure is not mediocre! Failure is bad!"